Five Reasons to Break to the Beach this Fall
September 30, 2016
Wide-open stretches of beach and mild temperatures make the Alabama Gulf Coast an attractive destination for a fall getaway. Slide your toes into the cool, white sand in Gulf Shores and Orange Beach and take in all that fall has to offer on Alabama's beaches.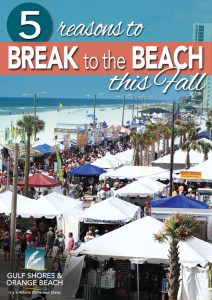 1.    Festivals. Cooler weather makes fall and festivals the perfect mix for fun and entertainment at the beach. Foodies will appreciate the celebrations of seafood and wine, including the 9th Annual Oyster Cook-Off and Craft Beer Weekend at The Hangout, 5th Annual Festival of Flavor, and 45th Annual National Shrimp Festival.
2.    2016 World Food Championships. For the first time ever, more than 400 teams will converge in Orange Beach for this annual culinary competition  Nov. 11-13. Teams will compete for part of a $350,000 prize package, including a grand prize of $100,000. Now in its fifth year, you can watch the competition from start to finish right here in Orange Beach.
3.    Great rates. The shoulder season means lower rates at your favorite vacation rentals. It's the perfect time to book a stay at a property you've had your eye on.
4.    The great outdoors. The water is still warm enough for enjoying the beaches and resort pools, but it's also a great time to enjoy some off-the-beach activities such as geocaching on nature trails and kayaking the back bays.
5.    Exploring history. The Mobile Bay Civil War Trail highlights Civil War battles from the Gulf of Mexico to north Mobile County. Take a look into the early days of war and settlement on the Alabama Gulf Coast.