What's Biting: Fall Into Great Tuna Action
October 5, 2016
That first feeling of fall weather we received late last week was certainly a welcome one. As the weather ever so slowly transitions to autumn, our local charter boats are transitioning much more quickly to fall tuna fishing tactics. "Without question, my absolute favorite time of the year to take customers tuna fishing is right now," said Captain Chris Garner of High Cotton charters based out of San Roc Cay Marina in Orange Beach". Once I feel the very first hint of fall, I know the tuna pattern will begin to change."
With kids back in school, college football in full swing and hunting camps needing to be tended to, fishing pressure has been greatly reduced. "It makes a huge difference when the rigs are not covered up with boats every day," said Garner. He also says less pressure on the closer in rigs is an opportunity for more fishing time for charter customers. "Once we move into fall we don't have run to the rigs that are one hundred or one hundred and twenty-five miles offshore." [caption id="attachment_7420" align="alignright" width="300"]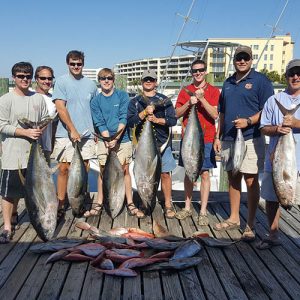 Fall is a great time to catch yellowfin tuna, like these caught aboard High Cotton with Captain Chris Garner from Orange Beach.[/caption] Fishing the 'close in' rigs that are sixty to eighty miles offshore allows our local charter boats to get to the rigs sooner and stay longer. "Having those extras hours to fish increases our chances of success because you never know when the bite will turn on. It could be first thing in the morning or the middle of the night, but at some point, those fish are going to feed," said Garner. Garner and his crew will catch tuna using many different tactics including on the troll with ballyhoo and artificial baits during the day while deep jigging and chunking at night. Chunking is like super chumming. Anglers use jigs to catch hard tails, bonitos and blackfin tuna. Those fish are then cut into 'chunks' and pitched back into the water creating a slick behind the boat. The slick then brings in more and more bonitos and small tunas which are deployed as chunks with circle hooks in them. The chunks rigged with hooks are drifted back in the newly formed slick and eventually eaten by the larger tunas. Chunking is effective and a very entertaining form of tuna fishing, especially at night. "To see those big yellowfins cruising into the slick in the underwater lights, just a few feet behind the boat and then watching them take your bait is very exhilarating," said Garner. I have always said fishing around a huge oil rig all lit up at night is something every offshore enthusiast should experience at least once. The fall season usually starts out with most yellowfin tuna being caught in the forty to fifty-pound range but as they show up, they are generally in good numbers which lends itself to an action packed trip. The fifty-pound fish will soon be regularly replaced with larger yellowfins in the seventy-five to one hundred pound class. Solid tuna fishing will last through Thanksgiving and even into December and beyond for those hardcore fisherman who can handle the colder weather. "I just love being on the water when it's not so dang hot," said Garner. The weather may not be hot but the tuna bite certainly is!