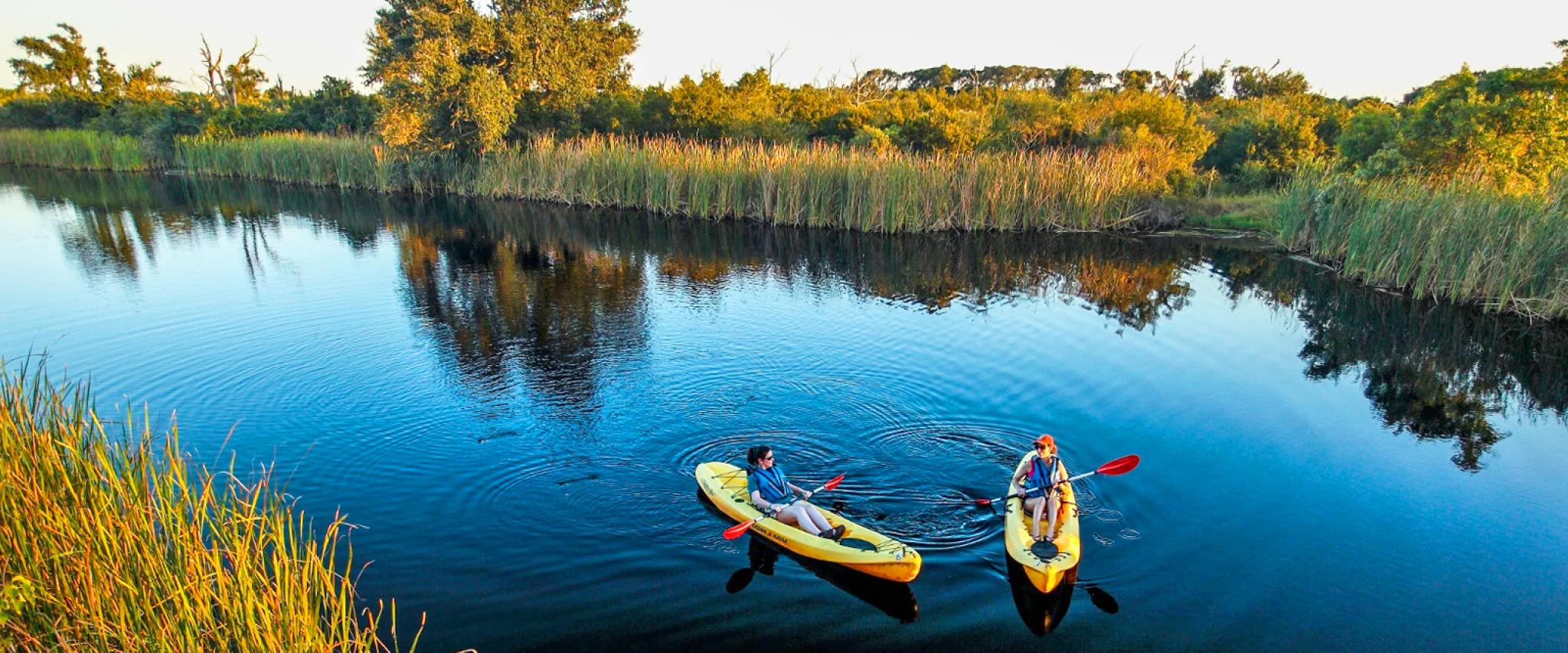 8 Reasons Why Gulf Shores and Orange Beach are World-Class Destinations for Outdoor Lovers
The Alabama Gulf Coast offers much more for outdoor lovers than just the beach.
March 30, 2021
Lace up the boots, air up the tires, dig out those paddles, and get ready for some fun and adventure in Gulf Shores and Orange Beach, Alabama. They're more than just beach towns—you'll find an outdoor-lover's paradise on Alabama's Gulf Coast. A getaway to Gulf Shores and Orange Beach provides countless opportunities for adventure.
Here are eight of our favorites:
2. Feathered Friends
South Alabama is a prime area for bird watching with hundreds of species of land, sea, and migratory birds. A popular way to view them is by following either the Gulf Shores-Orange Beach (Birding) Loop or the Fort Morgan Loop. These trails are part of the Alabama Coastal Birding Trail that lead birders to special viewing locations up and down the island. You may spot any number of species of warblers, brown pelicans, piping plover, loons, herons, osprey, and the list goes on and on.
3. Biking the Backcountry
Taking a bike ride on the Hugh S. Branyon Backcountry Trail is a must when visiting the Alabama Gulf Coast. You'll find eight beautiful, multi-use trails totaling more than 28 miles in length. Along the route you'll ride past shimmering freshwater lakes, coastal wetlands and marshes, and through a forest of towering longleaf pines. You may cross paths with white-tail deer, bobcat, and even see an alligator or bald eagle.
6. Wildlife and Dolphin Viewing
It's hard to believe the variety of wildlife around these Gulf Coast cities. Hike along the trails at the Bon Secour National Wildlife Refuge where you may see alligator, sea turtles, and ghost crabs. Or catch a glimpse of bobcat, deer, and maybe even wild boar on the Hugh S. Branyon Backcountry Trail. Eco-tours like the ones given by Wild Native Eco-Tours will give you your best chance at getting up close and personal with local wildlife. Everyone's favorite adventure is to watch dolphins as they play on the waves. The best way to view them is either by sea kayak or hop on one of the area's dolphin cruises, including the Cold Mil Fleet and Dolphins Down Under to name only a few.
7. GeoCaching
Geocaching is another way to explore a new area by using GPS to find hidden treasures left by others using their GPS. You can really rack up the finds along the Alabama Gulf Coast. Bring your handheld GPS or smartphone and set up an account at GeoCaching.Com to get the coordinates for your next cache. Kids in particular enjoy the hunt, and you'll often discover new parks and trails you wouldn't otherwise visit.
8. Play a Little Disc Golf
Hit the links with a round or two of Disc Golf. There are two world-class courses on Pleasure Island—the 9-hole Orange Beach Disc Golf Course where you'll have beautiful views of Johnson Cove, or the challenging 18-hole Prairie Disc Golf Course at the Graham Creek Nature Preserve. The Prairie is a Professional Disc Golf Association course. No greens fees or expensive equipment, and anyone can play along. Originally written by RootsRated for Gulf Shores AL.