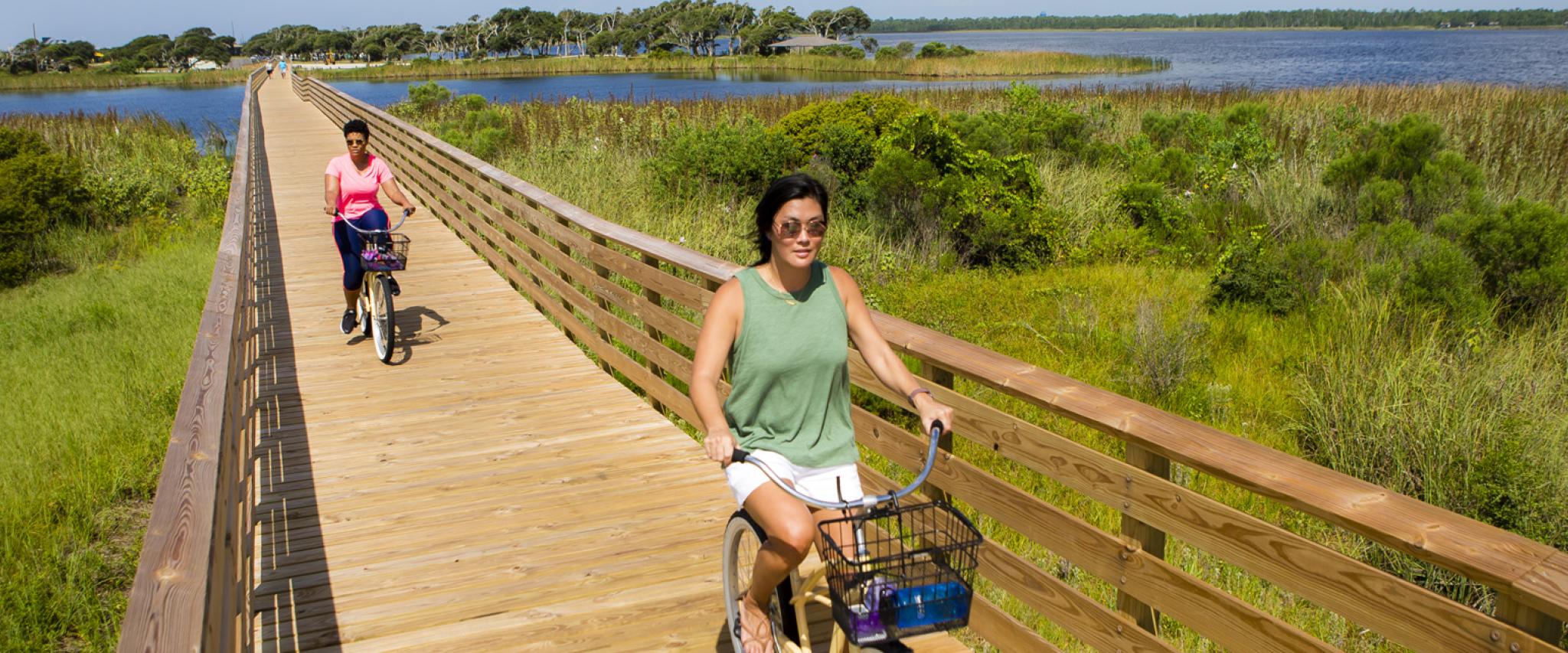 The 8 Best Places to Ride Your Bike on the Alabama Gulf Coast
Gulf Shores and Orange Beach feature a wide variety of bike trails and paths to get around town and explore.
November 23, 2020
5. Off-Road: Graham Creek Nature Preserve
Distance: Up to 10 miles Difficulty: Easy to moderate The best off-road mountain biking trail in the area can be found at the Graham Creek Nature Preserve. The preserve has more than 10 miles of trails and while not as technically challenging as racing around a mountain in North Alabama, Graham Creek presents its own challenges, mostly involving water. You'll find two stream crossings and several areas that are low-lying swales. They fill with water after a rain then present some good mud-running as they dry out. Otherwise the trails are wide, grassy paths.
6. For Roadies: Lake Shelby Loop
Distance: 6 miles Difficulty: Moderate A nice loop trail in Gulf State Park that uses the bike lanes of Highway 135, State Park Road 2, and Highway 182 to navigate around Lake Shelby with some great views of the lake and its wetlands. Begin at the Gulf State Park Adventure Center on Highway 182.
7. Fort Morgan Road West
Distance: 24 miles (round trip) Difficulty: Moderate to difficult due to distance True road bikers should check out Fort Morgan Road West. The trail starts at the Bon Secour National Wildlife Refuges Pine Beach Trailhead on Highway 180 and heads west using bike lanes for 12-miles to historic Fort Morgan. The fort is famous for being the site of the Battle of Mobile Bay during the Civil War in which Union Admiral David Farragut uttered those immortal words, "Damn the torpedoes, full speed ahead!" There is an admission charged to enter the fort. Amenities on this trek include Fort Morgan Pizza and Behind the Pines restaurant about 3 miles from the start of the trip on the south side of Highway 180. Be mindful of traffic, especially on the first few miles of this ride. The lane is narrow around bends, but it widens and you will have spectacular views of Mobile Bay to the north and the Gulf to the south as you bike along between the sand dunes.
8. Long Distance: Alabama to Florida
Distance: 27.4 miles (round trip)Difficulty: Difficult due to distance A favorite route for long-distance road bikers, this trek begins at the Public Beach parking area at the end of Highway 59 in Gulf Shores and follows the shoreline along Highway 182 all the way to Perdido Beach State Park in Florida, a trip of 13.7-miles one-way. The ride takes you past beautiful white beaches, sand dunes, and turquoise Gulf waters. Just before crossing into Florida you'll pass the world famous Flora-Bama Lounge & Oyster Bar, home of the famous Mullet Toss.
Originally written by RootsRated for Gulf Shores AL.