Leave Only Footprints: A Visitor's Perspective
We all have to do our own part to take care of our beaches and the other residents who call these beaches home, even if only for a short while.
March 27, 2017
When I was a teenager, I loved going to the beach with my mom and sister. We had an annual girls' beach getaway that consisted of hanging out on the beach all day and heading out for a great dinner each night. Back then, my beach gear consisted of an old quilt, a beach towel, some magazines and my sunscreen. Today, though, when vacationing along the Alabama Gulf Coast with my two kids, that has changed a bit. Instead of the old quilt, I bring a collapsible chair.
Maybe I haven't changed my beach gear much in the last decade or so, but many others have. Today when I head to the beaches along the Alabama Gulf Coast, it's not uncommon to see families push carts filled to overflowing with beach tents, folding chairs, beach toys, towels and more. While that's a bit much for me, I do love seeing the colorful tents dot the sand, especially when gazing at them from the balcony of my beach condo.
And while this new breed of beach gear certainly makes a sunny vacation more enjoyable, it also can cause harm to the beach's other residents if not removed every day. For example, the sea turtles that arrive along the Alabama Gulf Coast to nest every May through October may find it difficult to navigate through the maze of tents, chairs and trash left behind by beachgoers. Likewise, their hatchlings also may have difficulty making their way to the water when it comes time to join their sea families.
That's why the Leave Only Footprints rules and regulations were implemented in 2016. Per these rules, beachgoers are to remove all structures and equipment from the beach no later than one hour after sunset. Otherwise, these items will be removed and disposed of by beach patrol. Unfortunately, many visitors are not heeding these new regulations and last year, the beach patrol still removed 18 tons of metal tent frames and chairs from the beaches.
While it may not be convenient to remove your tent and chairs day after day during your weeklong vacation, we need to think of the bigger picture here. We all have to do our own part to take care of our beaches and the other residents who call these beaches home, even if only for a short while. As an example, when we accept this responsibility, we increase the odds of survival for every sea turtle nesting in Gulf Shores and Orange Beach.
From 2010 to 2014, more than 23,000 hatchlings safely entered the Gulf of Mexico from the beaches of the Alabama Gulf Coast. That may sound like a lot, but only an estimated one in 1,000 to 10,000 will survive to adulthood. That means that just two to 23 sea turtles born along the Alabama Gulf Coast live to be adults. We can help increase that number just by packing up our beach gear each afternoon. How simple is that?
Other steps we can take include staying off sand dunes and throwing away our trash. (New, clearly marked cans make it super easy to sort trash and recyclables!) None of these actions take away from the enjoyment you have during your Gulf Shores and Orange Beach vacation, and they go a long way in preserving our environment and wildlife. Now, who wouldn't want to help with that?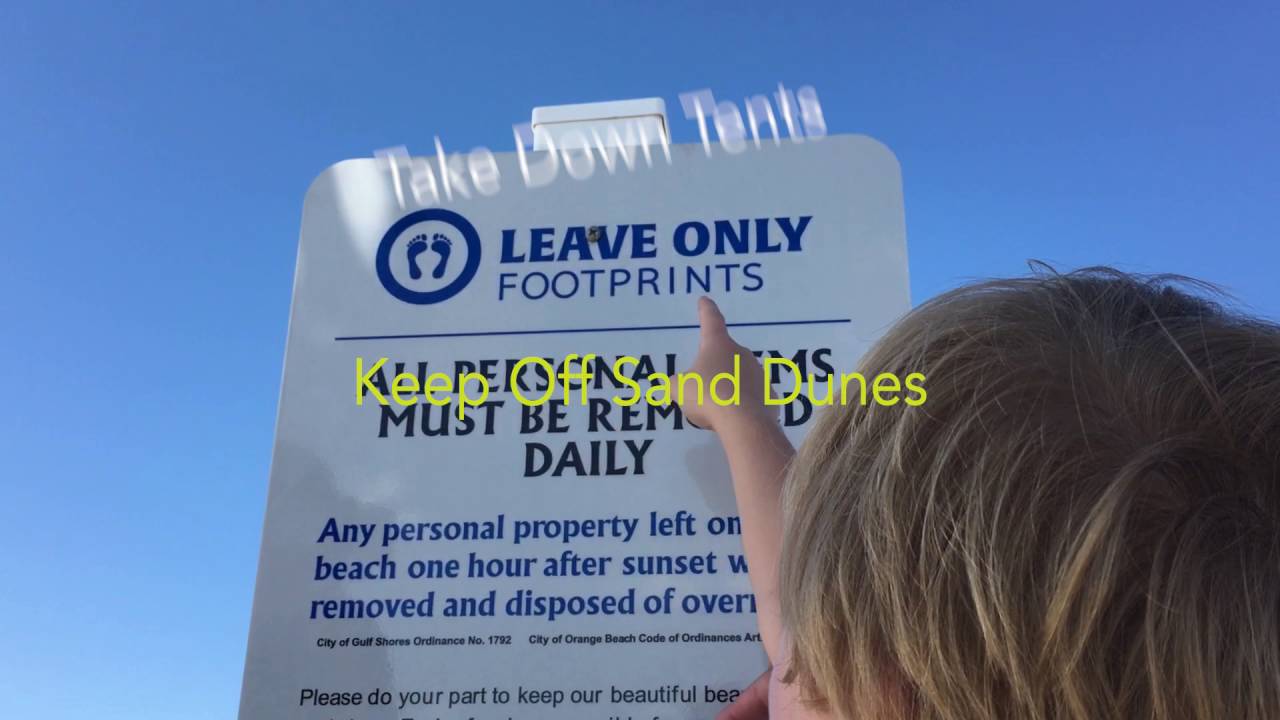 How to Leave Only Footprints in Gulf Shores and Orange Beach