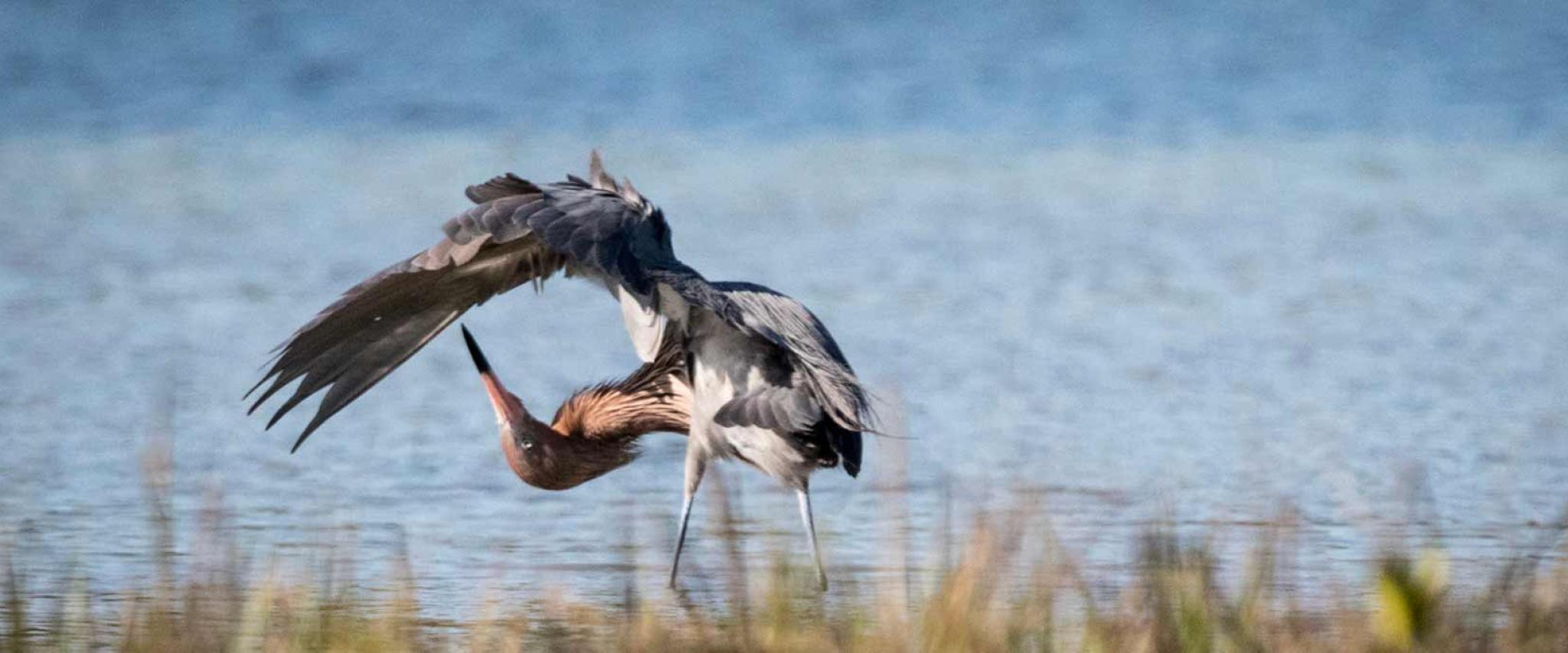 Your Guide to Birdwatching on the Alabama Gulf Coast
For nature lovers, birding and the beach are two magic words.
September 7, 2020
They allude to sun-drenched coastlines where binoculars and cameras are the most important items in a beach bag. The Mobile Bay National Estuary and surrounding areas offer birding enthusiasts endless opportunities for avian appreciation and discovery, especially during the spring and fall bird migrations.
Developed in the late 1990s, the Alabama Coastal Birding Trail features six birding loops that span Mobile and Baldwin counties. These loops total more than 200 miles of birding opportunities and cover different ecological regions, giving birders plenty of opportunities to experience numerous bird species.
One of these six loops is the Gulf Shores and Orange Beach loop, making it easy to combine a beach vacation with a few days of birdwatching. This particular pathway offers 15 sites designated for spotting our feathered friends.
On the trails, you may see species that are on the Watch List, including the snowy plover. Your chances to spot rarities increase during the spring and slightly longer fall migrations – stay alert for the reddish egret and more.
At the historic Fort Morgan stables, you'll find a birding station maintained by the Hummer/Bird Study Group. The station is open each April and October and welcomes visitors. Fort Morgan is also a classic migrant trap, making it a birding paradise during adverse weather.
If you're considering a birdwatching adventure on the Alabama Gulf Coast, browse this first-hand account by birdwatcher and nature travel writer Laura Kammermeier, Beaches and Birds in Gulf Shores, Alabama: A Road Trip with Max. Laura details her time spent birding in the Bon Secour National Wildlife Refuge, Fort Morgan and nearby Dauphin Island.
The annual John L. Borom Alabama Coastal BirdFest also offers a prime opportunity for guided birding expeditions, eco-tours and a Bird & Conservation Expo. Held in October each year, it features more than 30 expertly guided tours, workshops, and free family fun. The birding and nature festival highlights local and migrating birds, wildflowers, alligators, dolphins and more.