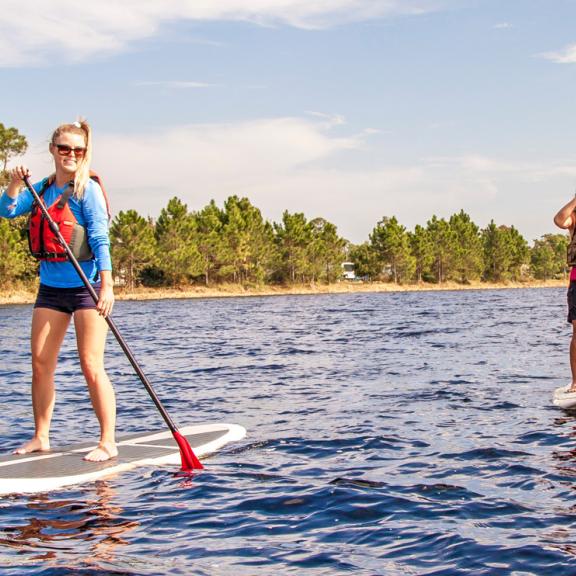 Lake Shelby: Gulf Shores' Natural Treasure
Located a short walk from the Gulf of Mexico and Alabama's white-sand beaches is the Gulf State Park's Lake Shelby.
July 23, 2020
This natural treasure has hosted families, fishermen and fun seekers for generations. Boy Scouts have camped around the lake, farmers markets have sold locally grown produce, and groups of all sizes and ages have enjoyed innumerable picnics under the trees. Lake Shelby is a beloved piece of the Alabama Gulf Coast landscape.
When you combine Lake Shelby with Little Lake and Middle Lake, there are nearly 900 acres of water inviting guests to swim, fish and boat or paddle. Lake Shelby is actually one of the closest freshwater lakes near saltwater on the Gulf of Mexico. But, that's only the beginning—so much history and interesting stories surround this piece of coastal paradise.
Fishing Lake Shelby
Even though Lake Shelby is a freshwater lake, because of its proximity to the Gulf, saltwater intrudes on the lake and makes it home to both freshwater and saltwater fish, including largemouth bass, bream, crappie, redfish and speckled trout. You'll even find blue crab in the lake. It's been rumored that bass weighing as much as five pounds have been caught in the lake! To fish the lake, you'll need a freshwater fishing license. This can be purchased at the bait shop on the Gulf State Park Pier for just $9 per day or $41 for a weeklong permit.
More Outdoor Adventures
Lake Shelby offers a scenic way to spend the day when you opt to paddle around the lake. Bring a fishing kayak and drop a line or rent a stand-up paddleboard or kayak onsite. Bike rentals are also available onsite at Lake Shelby. Make a day of it at the lake and bring along food to grill in the picnic area. Picnic tables and a pavilion (rentals available daily from 8 a.m. to sunset for up to 50 guests at $57/pavilion) make it easy to relax while making memories with family and friends.
Take the Gulf State Park on two wheels and leave Lake Shelby on a Segway with Coastal Segway Adventures. This unique, guided experience takes you through the various ecosystems of the Hugh S. Branyon Backcountry Trail.
Dog-Friendly Zone
Bring your furry friends to the lakeside dog park, The Dog Pond where you'll find agility and play equipment. There are a few things to keep in mind when bringing dogs to this venue however, and they are listed below.
Dogs must be leashed when entering and exiting the dog park.
Aggressive dogs are not permitted and must be removed at the first sign of aggression.
Also, dogs must be current on all vaccinations.
A Swim Back in Time…Way Back in Time
According to the Office of Archaeological Research at the University of Alabama Museums, some interesting finds have been noted about Lake Shelby's past. Director Matt Gage said the site around the lake represents a large shell midden (mound) where people congregated to share food and ideas and to trade items from all over the region during the Middle to Late Woodland time periods, as well as into the Mississippian period (AD 400-1100). Rangia shells (bivalve mollusks or clams) make up the majority of the food remains found in the shell midden; however, some terrestrial vertebrates common in estuarine environments were also found, including alligator, deer, birds and turtles. The residents who built the shell midden were a part of a large and vibrant culture that spread across the Gulf Coast as well as inland across the Southeast.
Fast forward to the 1930s when the Intracoastal Waterway was completed and we have modern-day trade, just not at Lake Shelby. Today, the lake serves as a place to join with friends and families, reel in the night's dinner and make memories and traditions that'll last for generations.
There is a small entry fee for Lake Shelby, but it's worth it for a place to play all day.
Don't miss an opportunity to visit during your next Gulf Shores and Orange Beach vacation.