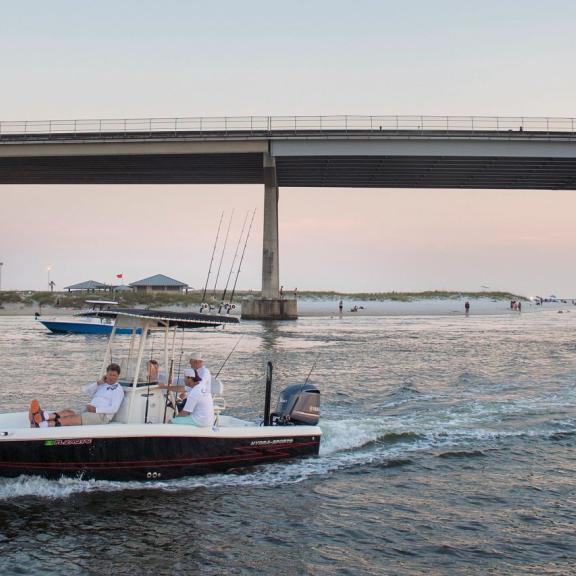 Bowfishing: A New Way to Slay on Alabama's Beaches
If you can't choose between hunting a deer and reeling in a drum, bowfishing may be the sport for you. 
April 1, 2021
There's a hot activity shaking up the nightlife scene on Alabama's beaches - and there are no dancing skills required. We're talking about bowfishing, an outdoor sport that turns a peaceful fishing trip into an adrenaline-filled adventure. 
Here's what you need to know:
Bowfishing in Gulf Shores and Orange Beach
The Alabama Gulf Coast is teeming with bowfishing opportunities. Our local inlets, bays, lagoons, and waterways are perfect hunting grounds for stingrays, flounder, sheepshead, drum, and other species.
If you're just getting into the sport, a guided charter is the way to go - they'll supply the equipment you need and help you navigate the shallow waters around the area. Luckily, Gulf Shores and Orange Beach have several great companies stocked with local experts who are more than willing to help you plan a bow-tiful trip.
Photo credit: Fish-Kabob Bowfishing
Bowfishing Businesses in Gulf Shores and Orange Beach
Now that you know the ropes, it's time to start reeling in the fish - and some great family fun! If bowfishing isn't your cup of tea, but you still want to drop a line, browse our other great fishing charters for a reel good time!