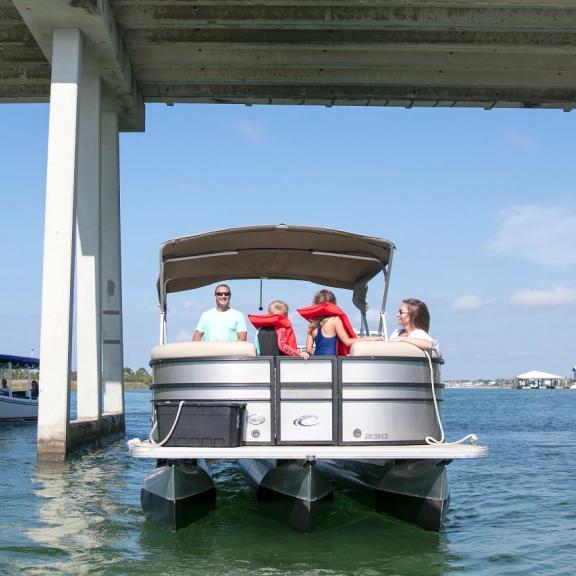 From Toddler to Teen: How We Keep Them All Entertained
Taking our kids on vacation at the beach is one of my favorite things to do.
June 3, 2021
But with kids ranging in ages from toddler to teen, we have to get creative and structure our vacations to keep everyone entertained, no matter the age.
Here a few tips that you can use to keep kids of all ages happy and having fun on your next Gulf Shores and Orange Beach vacation!
Mealtimes Matter.
One of our cardinal rules of vacation is that mama does not cook. Since we end up dining out often when we visit the beach, we try to choose kid-friendly restaurants that serve up tasty meals with a side of entertainment!
Lucy Buffett's LuLu's is always one of our first stops.  There are places all around the restaurant for kids (and adults) to play, and you can't beat the waterfront views. LuLu's also boasts a fun beach arcade and a huge menu that's sure to please both adventurous and picky eaters.
And a trip to the beach isn't complete without a trip to GT's on the Bay.  The back-patio dining area has the cutest pirate ship playground and sandbox for the kids to enjoy while the adults enjoy drinks and apps. If you are traveling with kids, GTs on the Bay doubles as both entertainment and restaurant. Because of that, we never miss it on our beach trips!
Choosing family-friendly restaurants has been a game-changer for keeping all of our kids fed and entertained at mealtimes!
Whether you like to spend all day on the beach, explore local attractions, or indulge in amazing dining experiences, Gulf Shores and Orange Beach are the perfect places for your entire family (from toddler to teen to adults) to enjoy a family trip to the beach. With a few adjustments to your schedule, the beach makes it easy to keep kids from toddler to teen entertained on your next vacation!