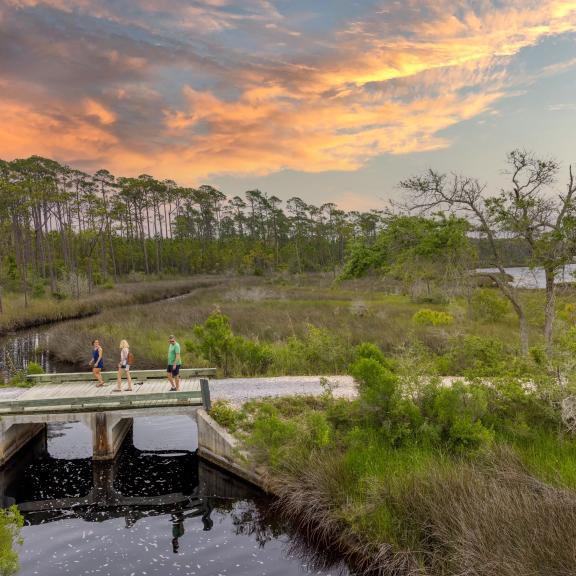 How I Spend a Kid-Free Weekend on Alabama's Beaches
September 7, 2021
For me, planning for a stress-free weekend (sans kids) begins with a quick call to The Beach Moms before I leave for my Gulf Shores and Orange Beach getaway. They always have everything I need waiting for me when I check into my condo. Granted, on a solo-cation, I don't need much, but it's nice to know I don't have to stop on my way in for drinks and snacks or other necessities. The Beach Moms will even pick up your sunscreen, make your dinner reservations or arrange for you to have beach chairs at your vacation rental.
Traveling solo means I get to indulge myself. For me, there's no better indulgence than a quiet dinner at Voyagers to ease my way into beach life. The restaurant's Gulf views are a foolproof way to make me relax, and the pianist in the lobby is the icing on the cake. 
Keeping with the getting laid-back vibe from the night before, my mornings at the beach are slow and easy, with a stop at one of the breakfast spots nearby. As I sip my coffee, I plan out my day of kid-free adventures.
I spend my afternoons enjoying the miles and miles of white-sand beaches. Renting a chair on the beach and a standup paddleboard from a Gulf Shores or Orange Beach rental company is how I live a little in the early afternoon. If I have time, I might add a walk along the beach to collect seashells.  Edging along the surf to scoop up sand dollars and mermaid purses to take home and admire brings out the kid in me. (And, if I'm honest, shelling might also have me missing my own kids a little. But this trip is about treating myself to "me time.")
I can't miss a visit to the Alabama Gulf Shores Zoo to get some cuddles from the sloth encounter. I want to learn more of his ways, and it's a good reminder to slow down and enjoy life a little bit more! This one-of-a-kind experience is my way of reconnecting with nature by spending time with this slow-moving, gentle animal.
I find ending the day with a sunset cruise with Back Bay Sailing is always the perfect way to watch the evening fade. No cruise happens without grabbing a charcuterie board from The Pantry at the Wharf and a bottle of wine from Red or White. Salty breezes and watching for dolphins always bring a smile to my face. 
Solo travel doesn't get much better than on Alabama beaches.