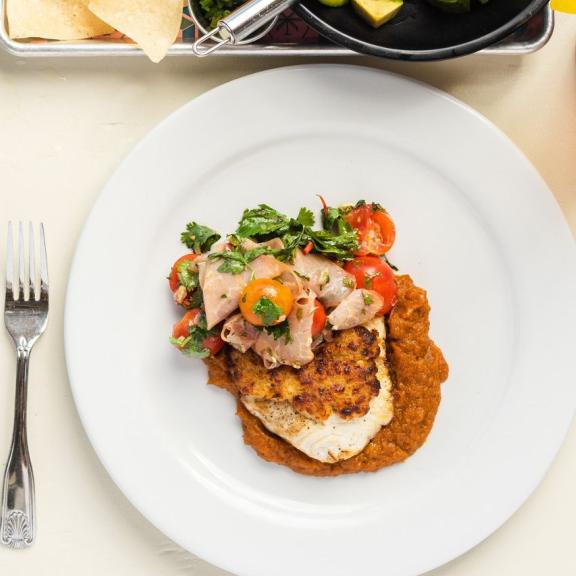 My Experience
As a Foodie on Alabama's Beaches
When Gulf Shores and Orange Beach have come up in conversations in the past, my mind automatically went to the beach.
February 10, 2021
I envisioned the 32 miles of white sand, the blue waters of the Gulf of Mexico, boats, and other beach attractions. What I didn't know was that Alabama's beaches are also an incredible destination for foodies and culinary travelers alike. Here are some highlights from my experience as a foodie on Alabama's beaches.
For my entree, I ordered the country fried chicken. My plate was overflowing with a seasoned-to-perfection fried chicken breast, eggs, biscuit, and hash browns. I'm normally a grits girl, but the waitress assured me that the hash browns were the way to go. I was not disappointed at all. Sunliner was an all-around "feel good" stop for me. There were smiles everywhere from the staff and diners, the music was fun, and the space was bright and lively. Make sure you put Sunliner Diner on your list.
Foodie Tip: Sunliner's table designs make great picture backgrounds for foodie flat lays.
Eating Pretty at Sportsman Marina in Orange Beach
Sportsman Marina in Orange Beach houses Playa which is easily one of the prettiest restaurants that I have seen in awhile. When I entered the doors, I felt like I had entered a luxury Caribbean resort with white furniture, hints of golds and browns, and greenery throughout the space. The prettiness did not end at the building. The food and drinks were pretty as well. James Beard Award nominee, Executive Chef Bill Briand has created delicious fresh seafood and light Caribbean dishes that are sure to please even the most refined palates. 
When I visited, I had it on good authority that the Gulf Fish on the Half Shell was the entree to order so I did just that. I know that you, the reader, are now asking how fish can be on a half shell. Well, I'm glad you asked. The Gulf Fish on the Half Shell is a roasted skin-on redfish so one side was the delicate flesh and the other side was the crispy "half-shell" skin. The fish is served with fresh avocado and tomato salad on top to pull all the flavors together. This dish was so tasty and light yet filling. Playa is a must. 
Foodie Tip: Visit Playa during the day so you can take advantage of all the natural sunlight for your selfies and food pics. Also, check out Playa's sister restaurant Fisher's at Orange Beach Marina.
These were just a few stops from my adventures visiting Alabama's beaches. The area is filled with yummy and picture-worthy food and drink at every level from grab-and-go spots to fine dining. Do your foodie self a favor by making Gulf Shores and Orange Beach your next culinary adventure destination.