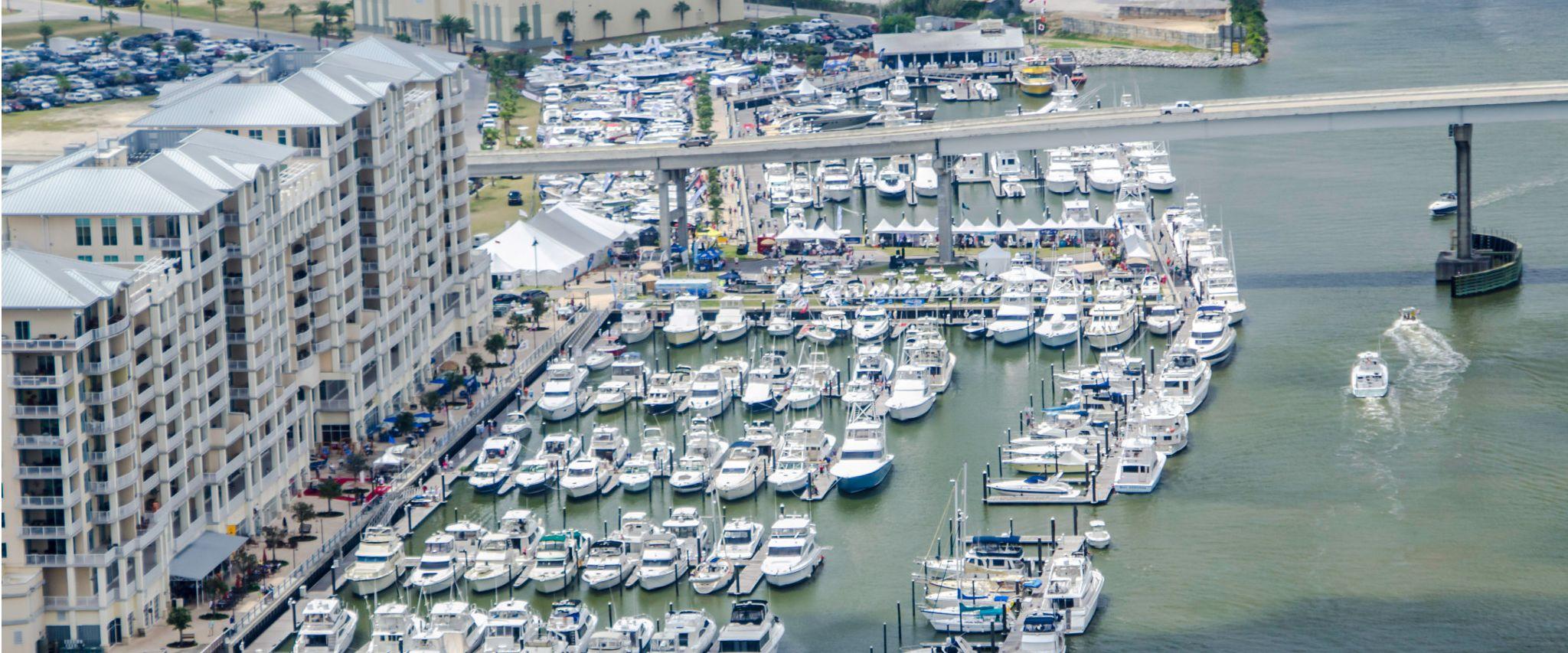 The Wharf Boat and Yacht Show: A Boater's Paradise
March 20-22 in Orange Beach
January 9, 2020
Alabama's premier waterfront entertainment venue will showcase the latest in boats and yachts of every size during the annual The Wharf Boat and Yacht Show, scheduled March 20-22 at the state-of-the-art facilities in Orange Beach.
With an inventory valued at more than $150 million, The Wharf Boat and Yacht Show has become the premier event on the Alabama Gulf Coast. Typically, sales of more than $20 million are conducted during the show.
For the second year in a row, the BoatUS Foundation On-Water Training program will be offered to those who want to improve their boating skills or learn how to safely operate a vessel as a newcomer to the boating community.
The BoatUS courses are perfect for those who are exploring purchasing or renting a boat to ensure a safe trip on the water. Space is limited, so be sure to reserve your spot. The boating course fees also cover admission to The Wharf Boat and Yacht Show, which has teamed with Freedom Boat Club to offer lessons on how to have a fun, informative day on the water. Students must be 21 years of age to take the courses, which are "Intro to Boating" and "Women Making Waves." Each course features three hours on the water.
General admission starts on Friday with the Red Carpet Special. Ladies Day is set for Saturday, March 21. Both Friday and Saturday hours are 10 a.m. to 6 p.m. On Sunday, March 22, Military Appreciation Day is set for 10 a.m. to 4 p.m. General admission tickets are $10 on Friday and Sunday and $12 on Saturday. A platinum package for admission all three days is available for $25. With a proper ID, military personnel and first responders can purchase an $8 ticket. Children 12 years old and younger are admitted free.
The Wharf features 135 boat slips available for the exhibitors. In addition to the boats and yachts, more than 70 exhibitors will offer all the accessories, upgrades and retrofit kits a boater could possibly need. Booths with marine electronics, fishing tackle, marine engines for repowering options and other outdoor equipment will be available for your inspection.
If you're in the big-boat market, numerous yacht dealers will have vessels up to 75 feet in length on display. If you're looking for something smaller, the show will have vessels from small skiffs with tiller outboards to fully rigged inshore boats. Exhibitors will have more than 650 trailer-able boats on display.
St. Jude Children's Research Hospital will again benefit from the popular Fighting Chair Competition. For a $10 donation, you can challenge friends to friendly competition, simulating big game fishing in Release Marine offshore fighting chairs. Located on the BridgeWalk, the Fighting Chair Competition is open from 11 a.m. to 3 p.m. on all three days of the show. All proceeds will go directly to the hospital.
Also on the BridgeWalk Event Stage, a variety of events are planned, including kids art classes from marine artist Larry Rackley. Ladies Day will feature fashion shows and drawings for gift packages. Visitors will also be entertained with live music.
Once you've made the rounds at The Wharf Boat and Yacht Show, you can take a short walk to some of the best restaurants and shopping available on the Alabama Gulf Coast. The Wharf offers free covered parking and a complimentary golf cart shuttle service.
Take a ride on The Wharf's Ferris Wheel, which is 112 feet tall with 24 gondolas, for a big picture of the Gulf Coast's premier boat and yacht show.
Be sure to mark March 20-22 on your calendar so you won't miss the best show on the Gulf Coast: The Wharf Boat and Yacht Show.