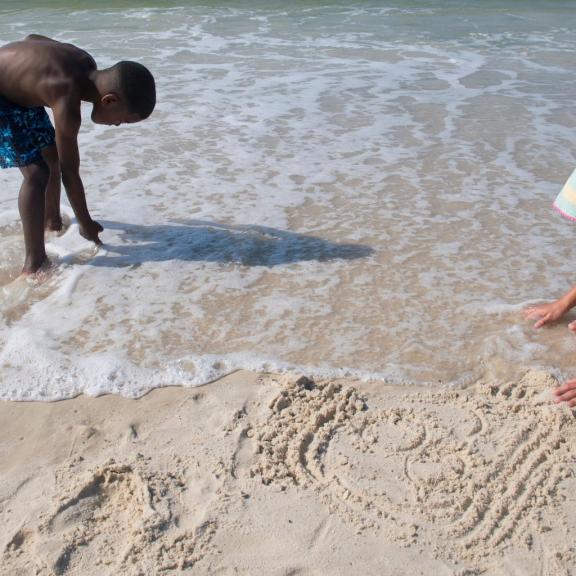 Things to Do with Toddlers
In Gulf Shores & Orange Beach
May 3, 2023
Traveling with a toddler in tow is a different experience than vacationing with older children. Thankfully, Gulf Shores and Orange Beach offer something for everyone in the family, including the little ones. From one-of-a-kind attractions to animal adventures and outdoor fun, our destination has plenty of great ways to entertain your toddlers during your vacation.
Watch Now
Heading to the beach with a toddler? Here are some of our favorite things to do with toddlers on Alabama's Beaches.
2. See Dinosaurs at Barber Marina
Dinosaurs at the beach? It's true! In nearby Elberta, prehistoric giants roam the Earth once again. Four life-size dinosaurs live in the woods at Barber Marina, and visitors are free to visit them. On the property, you'll find other unique structures, such as the Lady in the Water, a giant spider, knights, and Bamahenge, a replica of the iconic Stonehenge. The whole family will have a blast checking out the sculptures and snapping photos.
4. Bike the Nature Trails
Gulf State Park is a must-see on the Alabama Gulf Coast. You'll discover numerous fun spots in the park, such as the Butterfly Garden, Bouldering Park, Al's Parkour Challenge, and two playgrounds. Your little ones will have a blast exploring the park and stopping to play at each of these exciting spots. One of the best ways to traverse the park is by bike. You can bring your own or rent one, and most rental companies offer kids' bikes and attachable toddler seats.
6. Visit Alligator Alley
Just 25 minutes north of Gulf Shores, stop in at Alligator Alley and see more than 450 alligators sunbathing and relaxing in their natural environment. You'll even meet Captain Crunch, a 13-foot-2-inch long gator who holds the world record for the greatest bite strength at 2,982 pounds. Bring a stroller along for a nature walk on the elevated boardwalk and see other species, including turtles, ospreys, owls, and bullfrogs. You and your toddler can even hold a baby alligator after you've finished your self-guided tour.
8. Go on a Dolphin Cruise
Grab your little ones and go searching for dolphins. Our area is home to dozens of dolphin cruises that take passengers into the waters where these friendly creatures hang out. During your excursion, your captain will share about the habitat and behaviors of the dolphins who live in the area. The whole family will have fun bounding over the waves looking for dolphins and other native wildlife.
10. Find Fun at Tropic Falls
While in Foley, head to Tropic Falls at OWA, a theme park and indoor waterpark. There's something for the whole family here with thrilling waterslides, kiddie rides, a water playground, and exciting carnival rides. Your little ones will love experiencing the theme park's attractions, such as LeapFrog and Flying Tigers. At the waterpark, they can splash around Tuki's Tower and take a dip in the Big Water Bay wave pool. After a day of nonstop fun at Tropic Falls, your toddlers are sure to sleep well.