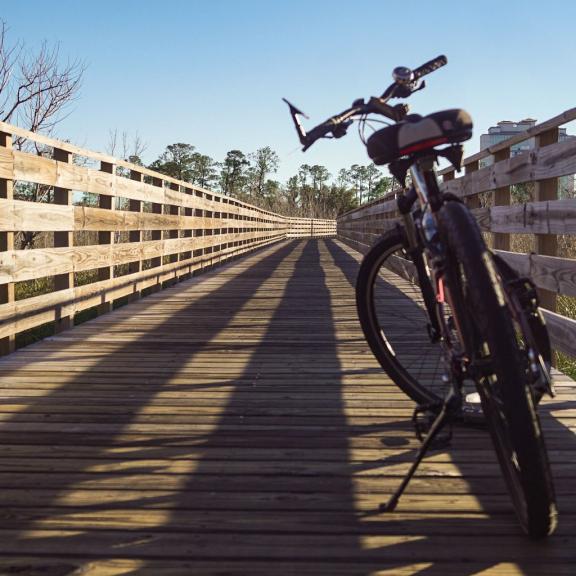 Best Biking Trails
In Gulf Shores & Orange Beach
March 21, 2023
Biking is a favorite activity for both locals and visitors here in Gulf Shores and Orange Beach all year long. The Alabama Gulf Coast offers plenty of amazing trails and paths for bikers to explore the area and get around. Whether you're looking for a nice ride to the beach or a lengthy trek in the park, there's a trail for you to enjoy.
3. Fort Morgan Road Trail
Distance: 10.8 miles, round trip
Difficulty: Moderate
The Fort Morgan Road Trail is a pleasant pedal from the intersection of Alabama Highway 59 and Highway 180, at the Rouses Shopping Center, to Peninsula Golf and Racket Club, 5.4 miles (one way). Before heading off, be sure to fill up on some delicious beignets and coffee at Café Beignets, located at the starting point. From the shopping center, the trail is a wide, multi use path that parallels Highway 180, but most of the trip is well off the road behind a barrier of trees. The trail is ideal for families since it is a paved, level track, but a round-trip with children could be challenging due to the length. You may consider doing a short segment with them. At the 4-mile mark, there is a "rest stop" — the Island Quik Mart convenience store, where you can pick up drinks and snacks or use the restroom.
7. Fort Morgan Road West
Distance: 24 miles, round trip
Difficulty: Moderate to difficult due to distance
Advanced riders should check out Fort Morgan Road West. The bike path starts at the Bon Secour National Wildlife Refuge's Pine Beach Trailhead on Highway 180 and heads west using bike lanes for 12 miles to Historic Fort Morgan. The fort is famous for being the site of the Battle of Mobile Bay during the Civil War, in which Union Admiral David Farragut uttered those immortal words, "Damn the torpedoes, full speed ahead!" Be mindful of traffic, especially on the first few miles of this ride. The lane is narrow around bends, but it widens and gives you spectacular views of Mobile Bay to the north and the Gulf to the south as you bike along between the sand dunes.