Magic Christmas in Lights at Bellingrath Gardens and Home
From: 08:00 AM to 09:00 PM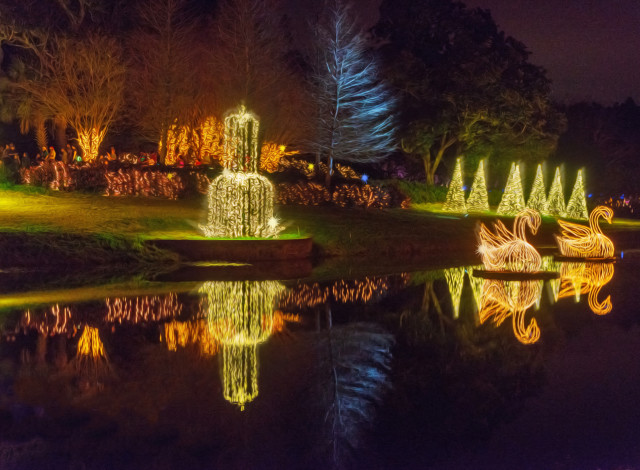 Bellingrath Gardens and Home is celebrating Magic Christmas in Lights.
In this Gulf Coast holiday tradition, guests stroll through a dazzling light display that features more than 1,100 set pieces, 3 million lights and 16 scenes throughout the 65-acre Garden estate.
(The show is closed only on Christmas and New Year's days.)
In 2022, Bellingrath Gardens and Home was named No. 9 in USA Today's list of the Top 10 Best Botanical Garden Holiday Lights. Bellingrath's show is the only one in the Southeast that made the list. 
Admission:
$17 (adults), $11(ages 5-12), $1 (children 4 and under)
See All Dates

12/07/2023

8:00 AM - 9:00 PM

12/08/2023

8:00 AM - 9:00 PM

12/09/2023

8:00 AM - 9:00 PM

12/10/2023

8:00 AM - 9:00 PM

12/11/2023

8:00 AM - 9:00 PM

12/12/2023

8:00 AM - 9:00 PM

12/13/2023

8:00 AM - 9:00 PM

12/14/2023

8:00 AM - 9:00 PM

12/15/2023

8:00 AM - 9:00 PM

12/16/2023

8:00 AM - 9:00 PM

12/17/2023

8:00 AM - 9:00 PM

12/18/2023

8:00 AM - 9:00 PM

12/19/2023

8:00 AM - 9:00 PM

12/20/2023

8:00 AM - 9:00 PM

12/21/2023

8:00 AM - 9:00 PM

12/22/2023

8:00 AM - 9:00 PM

12/23/2023

8:00 AM - 9:00 PM

12/24/2023

8:00 AM - 9:00 PM

12/25/2023

8:00 AM - 9:00 PM

12/26/2023

8:00 AM - 9:00 PM

12/27/2023

8:00 AM - 9:00 PM

12/28/2023

8:00 AM - 9:00 PM

12/29/2023

8:00 AM - 9:00 PM

12/30/2023

8:00 AM - 9:00 PM

12/31/2023

8:00 AM - 9:00 PM

01/01/2024

8:00 AM - 9:00 PM

01/02/2024

8:00 AM - 9:00 PM

01/03/2024

8:00 AM - 9:00 PM