Starting Here, Starting Now
Sunday, Jun 06, 2021 -
Friday, Jul 02, 2021
Tues-Sat 8:00 PM and Sun 4:00 PM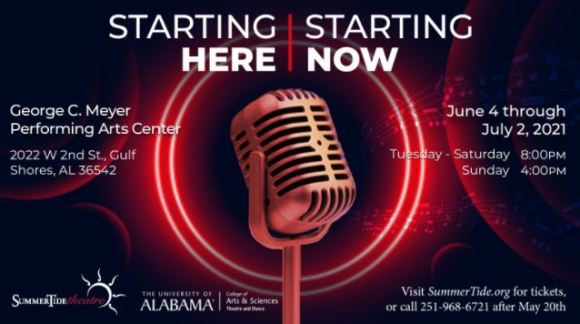 Admission:
Adult $25.00, Children 12 and under $20.00
With Music by David Shire and Lyrics by Richard Maltby, Jr., each song in this musical revue tells a story of modern romance or finding oneself. The audience is taken on a tour of love, heartbreak and self-discovery with subjects ranging from anticipation and love triangles to loneliness and adventure.
Running June 4 through July 2, 2021
Tuesday - Saturday 8:00 PM
Sunday 4:00 PM
If you would like to purchase tickets with more than 4 seats together,
or if you are interested in a private performance for groups of up to 60,
please contact the Box Office by phone (listed below).
In an effort to help prevent the spread of COVID-19 and in accordance with University policies, patrons will be required to wear masks in the theatre and maintain physical distance.
To control proper physical distancing, reserved seats may be reassigned to ensure appropriate distance from other patrons. We appreciate your understanding in this matter and we promise that there is not a bad seat in the house.
Box Office Contact Information:
(205) 348-3400 before May 21
(251) 968-6721 after May 26