Salt Marsh Excursion
From: 9:45 AM to 12:15 PM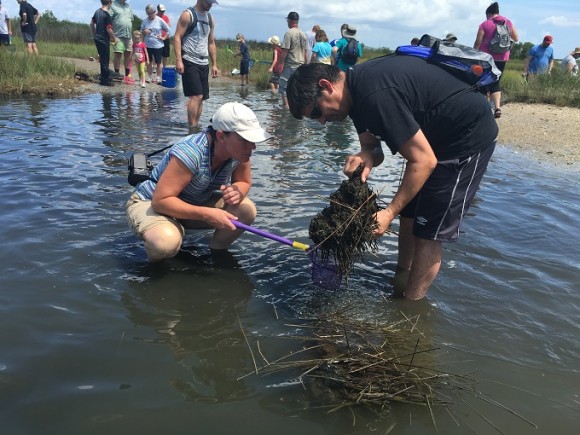 Salt marshes are not monotonous expanses of grass; they're fascinating coastal wetlands that are critical to our estuary system. Be a marine scientist for a day, and use seine nets, buckets, shovels, and sieve boxes to collect samples, including crabs, snails, and fish (we'll release animals back to the marsh). You'll learn about the important role salt marshes play in the Gulf of Mexico and how they support the seafood we enjoy.
After meeting at the Estuarium, you will travel to the Dauphin Island salt marsh to explore this vital ecosystem. Please be advised that you will get wet and muddy, so you may wish to prepare your vehicle accordingly.
What to wear: Proper footwear is very important for your safety and enjoyment. Because of sharp oyster shells, participants are advised to wear closed-toe shoes that tie or strap on, such as old tennis shoes. Please no flip-flops, Crocs, or rubber boots as they get 'eaten' by the marsh mud. Wear clothes that can get wet and muddy. Showers and changing facilities will be available after the marsh trip.
What to bring: hat, sunscreen, water bottle, change of clothes and shoes, bag for muddy items.
For questions and reservations: E-mail [email protected] or call (251) 861-2141 ext. 2127.
Admission:
$12 per person. Space is limited, and reservations are required.
See All Dates

05/26/2022

06/23/2022

07/07/2022

07/21/2022

07/27/2022