Stuffed Animal Sleepover
Friday, Nov 27, 2020 -
Friday, Dec 04, 2020
From: 4:30 PM to 5:30 PM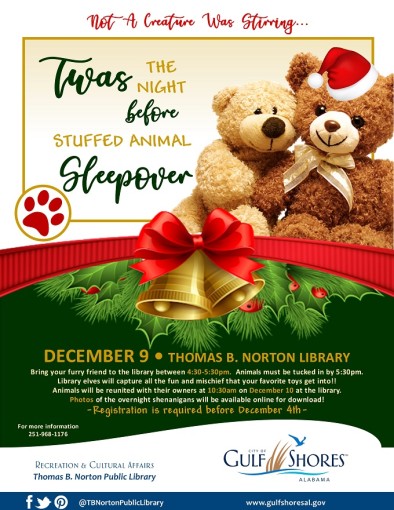 Twas the Night before Christmas and all through the house, not a creature was stirring....except your Stuffed Animal!!
Bring your furry friend to spend a fun-filled night at the library!
Drop off is between 4:30 pm and 5:30 pm on December 9th.
All babies have to be tucked in by 5:30 pm.
Library elves will capture all the mischief your babies get into!
Come back and pick them up on December 10th at 10:30 am.
Pictures of the overnight shenanigans will be available online for download!
*REGISTRATION REQUIRED BY FRIDAY, DECEMBER 4TH*