Summer Reading Program 2022
From: 10:30 AM to 11:30 AM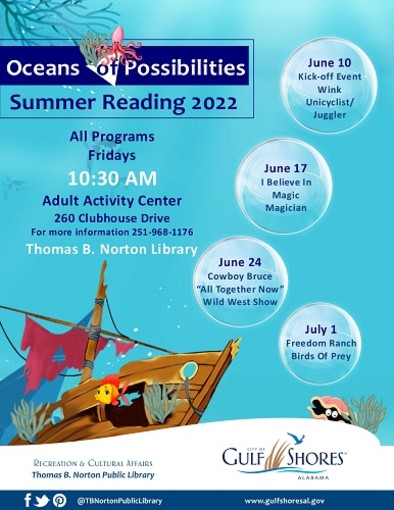 The Thomas B. Norton Library's Summer Reading Kickoff, "Oceans of Possibilities" starts June 10th at 10:30 am. All programs will be held at the Adult Activity Center at 260 Clubhouse Drive. All ages are welcome.
June 10: Wink - Juggler extraordinaire and unicyclist. From performing on David Letterman to performing at your library, you will not want to miss this performance.
June 17th: I Believe In Magic - Magician - Abracadabra - Come see the President of the Gulf Coast Magicians guild Bruce Walstad.
June 24th: Wild West Show - Cowboy Bruce - "All Together Now", Embracing different cultures, trick roping, the art of the bullwhip and trail drive.
July 1st: Freedom Ranch - Provides quality education, inspiration, and adventure with live animals.
For more information contact the library at 251-968-1176.
See All Dates

06/10/2022

10:30 AM - 11:30 AM

06/17/2022

10:30 AM - 11:30 AM

06/24/2022

10:30 AM - 11:30 AM

07/01/2022

10:30 AM - 11:30 AM