The Favorites Band
From: 07:00 PM to 09:00 PM (Doors open at 5:00)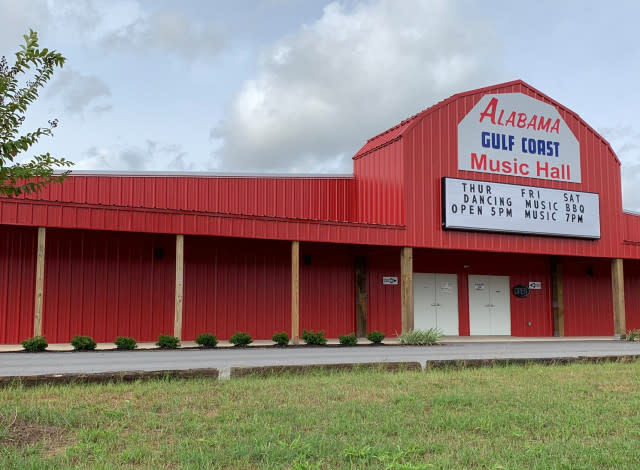 We are in full swing each Thurs., Fri., & Sat. with "The Favorites Band" and all your favorite songs for dancing and listening…plus, the Best Southern BBQ in the South! 
Join in the fun, food, music and dancing! 
Regular show tickets (Thursday, Friday, Saturday) are $8 in advance and $10 at the door.
BBQ Dinner Special $12 … Free Soda.
BBQ Baskets $9 … Free Soda.
Special Road-Show Ticket prices may vary. Please call us for Tickets, reservations & more information. 251-978-2462
We offer lots of great music, entertainment, dancing, and great Southern-style BBQ . We have put together some money-saving ticket/food packages for you.
AVOID ON-LINE TICKET FEES 
CALL 251-978-2462 (24-7)
CALL TO RESERVE TICKETS TODAY – GROUP DISCOUNTS AVAILABLE
See All Dates

12/07/2023

7:00 PM - 9:00 PM

12/08/2023

7:00 PM - 9:00 PM

12/09/2023

7:00 PM - 9:00 PM

12/14/2023

7:00 PM - 9:00 PM

12/15/2023

7:00 PM - 9:00 PM

12/16/2023

7:00 PM - 9:00 PM

12/21/2023

7:00 PM - 9:00 PM

12/22/2023

7:00 PM - 9:00 PM

12/23/2023

7:00 PM - 9:00 PM

12/28/2023

7:00 PM - 9:00 PM

12/29/2023

7:00 PM - 9:00 PM

12/30/2023

7:00 PM - 9:00 PM