Kenny Vines Memorial Billfish Tourney
Friday, Sep 20, 2019 -
Saturday, Sep 21, 2019
From: 5:00 PM to 8:00 PM
Tacky Jacks - Orange Beach
Get Directions
Hours of Operation
6:30AM-10PM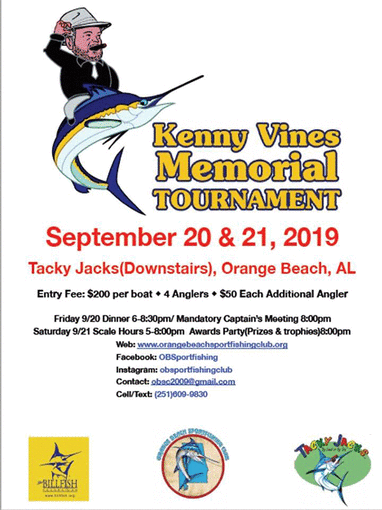 Admission:
$200 per boat for up to four anglers, with a $50 charge for each additional angler
The Orange Beach Sportfishing Club sponsored Kenny Vines Memorial Fishing Tourney will be held Sept. 20-21 at Tacky Jacks in Orange Beach.
With a philosophy that favors fun over prize money, the tourney benefits the Billfish Foundation, one of the tourney namesake's many causes, as well as local charities.
The tourney's mandatory captains' meeting is on Friday at 8 pm at Tacky Jacks. Scale hours are Saturday from 5-8 pm.
Tourney winners will receive trophies, prizes and bragging rights at the awards party that follows. The entry fee is only $200 per boat for up to four anglers, with a $50 charge for each additional angler. Species include Tuna, Wahoo, Dolphin, White Marlin, Blue Marlin and Sailfish.
For more information, visit FaceBook, email [email protected] or call 251-609-9830.
Kenny Vines, KV to his friends, passed away February 18, 2011, after sustaining a head injury due to a fall. Raised in Perdido, Vines resided in Orange Beach for more than 30 years. The owner and operator of KV Yacht Brokerage, he was an avid sport fisherman, with memberships in the Pensacola and Mobile Big Game Fishing Clubs. He was also active in the Coastal Conservation Association, The Billfish Foundation and the Orange Beach Sportfishing Club.
As a Mobile Big Game Fishing Club board member, Vines was a key member of the Orange Beach Billfish Classic, an all release billfish tournament that was The Billfish Foundation's top U.S. all release billfish tournament (in donor scales) for three consecutive years.