Hands-on Habitat, Orange Beach Coastal Resource Beach Nesting Program
From: 11:00 AM to 12:00 PM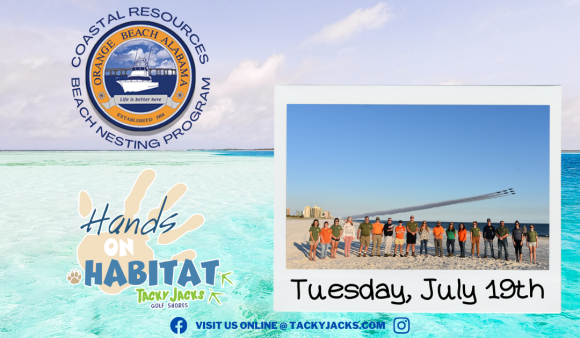 Kids & adults alike can learn about our ecosystem and depending on the guest speaker, even interact with the animals that live here with us.
The event is all ages from 11 am-12 pm on July 19.
Please arrive 15 minutes early. Reservations are required.  Meet downstairs at Jack's Bar.
Every year sea turtles make the journey to Alabama's beaches and start nesting and laying their eggs. Loggerhead, Kemp's Ridley, and Green turtles all use the Beach as a nesting ground. Turtles return to the same coastal Beach where they were hatched to lay their eggs, so the turtles that visit our beaches are frequent visitors. From the time they arrive on land to lay their eggs to the moment the hatchlings crawl towards the water, their survival is at risk. During hatching season, May through October, hundreds of Share the Beach volunteers work to protect these sea turtles and ensure the safety of their nests.
Admission:
FREE with RSVP