B-B-Q Nite Featuring Joe Chunn - Don Stafford & The Favorites Band
Thursday, Mar 05, 2020 -
Thursday, Dec 31, 2020
Doors open at 5:00 PM, Music starts at 7:00 PM
Alabama Gulf Coast Music Hall
12615-A Foley Beach Expressway
Get Directions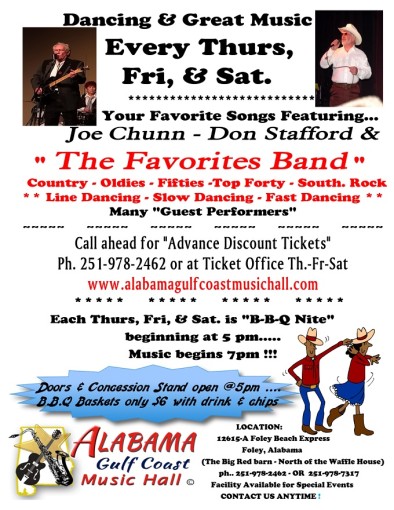 Admission:
Regular show tickets (Thursday, Friday, Saturday) are $8 in advance and $10 at the door
Join the fun every Thursday, Friday, and Saturday!   
There will be music by Joe Chunn - Don Stafford & The Favorites Band,  dancing, and delicious BBQ.
Doors open at 5 PM, and the music begins at 7 PM.  
Call ahead for discounted pricing and group rates.