Ambassadors of the Environment Day Camp
From: 8:00 AM to 12:00 PM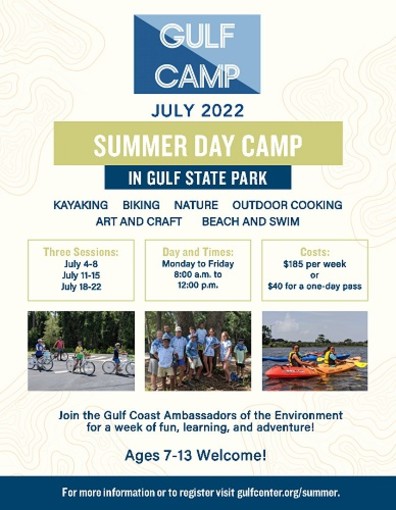 Jean-Michel Cousteau's Ambassadors of the Environment is excited to introduce GULF CAMP, a summer day camp for youth ages 7-13.

Camp activities include kayaking, biking, beach exploration, swimming, nature, arts and crafts, outdoor cooking, and more!

Monday to Friday; 8:00 a.m to. 12:00 p.m.; Cost is $185 per week per child.

Now offering single-day passes! The cost is $40/per child per day.
Admission:
See info below
See All Dates

07/04/2022

8:00 AM - 12:00 PM

07/05/2022

8:00 AM - 12:00 PM

07/06/2022

8:00 AM - 12:00 PM

07/07/2022

8:00 AM - 12:00 PM

07/08/2022

8:00 AM - 12:00 PM

07/11/2022

8:00 AM - 12:00 PM

07/12/2022

8:00 AM - 12:00 PM

07/13/2022

8:00 AM - 12:00 PM

07/14/2022

8:00 AM - 12:00 PM

07/15/2022

8:00 AM - 12:00 PM

07/18/2022

8:00 AM - 12:00 PM

07/19/2022

8:00 AM - 12:00 PM

07/20/2022

8:00 AM - 12:00 PM

07/21/2022

8:00 AM - 12:00 PM

07/22/2022

8:00 AM - 12:00 PM