Guided Pier Walk
From: 9:00 AM to 10:00 AM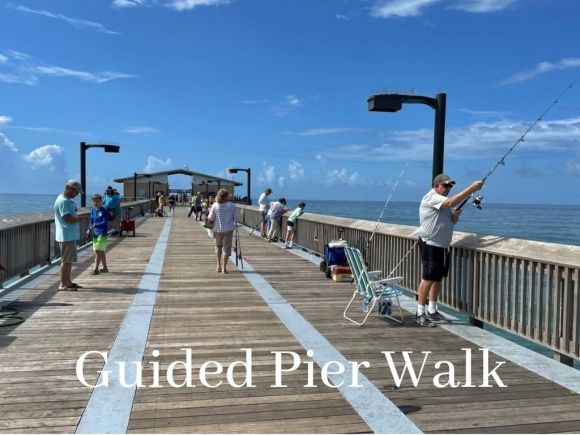 Join our naturalists as they guide you on an exclusive pier tour. Learn all about the history and excitement of this resilient landmark!
It costs $3.00 per vehicle to park at the pier for two hours, and there is a $2.00 per person sightseeing fee if you are not staying in the park. If you are staying with us, bring your windshield pass/room key for the following discounts: Campground / Learning Campus Bunkhouse / Cabin / Cottage guests (free parking & sightseeing), Lodge guests ($3.00 parking, free sightseeing).
Please visit the concession stand to purchase/pick up pier sightseeing wristbands and meet at the picnic tables across from the tackle shop.
This event is weather dependent.
See All Dates

03/31/2023

9:00 AM - 10:00 AM

04/07/2023

9:00 AM - 10:00 AM

04/14/2023

9:00 AM - 10:00 AM

04/21/2023

9:00 AM - 10:00 AM

04/28/2023

9:00 AM - 10:00 AM

05/05/2023

9:00 AM - 10:00 AM

05/12/2023

9:00 AM - 10:00 AM

05/19/2023

9:00 AM - 10:00 AM

05/26/2023

9:00 AM - 10:00 AM

06/02/2023

9:00 AM - 10:00 AM

06/09/2023

9:00 AM - 10:00 AM

06/16/2023

9:00 AM - 10:00 AM

06/23/2023

9:00 AM - 10:00 AM

06/30/2023

9:00 AM - 10:00 AM

07/07/2023

9:00 AM - 10:00 AM

07/14/2023

9:00 AM - 10:00 AM

07/21/2023

9:00 AM - 10:00 AM

07/28/2023

9:00 AM - 10:00 AM

08/04/2023

9:00 AM - 10:00 AM

08/11/2023

9:00 AM - 10:00 AM

08/18/2023

9:00 AM - 10:00 AM

08/25/2023

9:00 AM - 10:00 AM

09/01/2023

9:00 AM - 10:00 AM

09/08/2023

9:00 AM - 10:00 AM

09/15/2023

9:00 AM - 10:00 AM

09/22/2023

9:00 AM - 10:00 AM

09/29/2023

9:00 AM - 10:00 AM

10/06/2023

9:00 AM - 10:00 AM

10/13/2023

9:00 AM - 10:00 AM

10/20/2023

9:00 AM - 10:00 AM

10/27/2023

9:00 AM - 10:00 AM

11/03/2023

9:00 AM - 10:00 AM

11/10/2023

9:00 AM - 10:00 AM

11/17/2023

9:00 AM - 10:00 AM

11/24/2023

9:00 AM - 10:00 AM

12/01/2023

9:00 AM - 10:00 AM

12/08/2023

9:00 AM - 10:00 AM

12/15/2023

9:00 AM - 10:00 AM

12/22/2023

9:00 AM - 10:00 AM

12/29/2023

9:00 AM - 10:00 AM