Kid Creators Educational Lab
Thursday, Jan 27, 2022 -
Thursday, May 26, 2022
From: 04:00 PM to 05:00 PM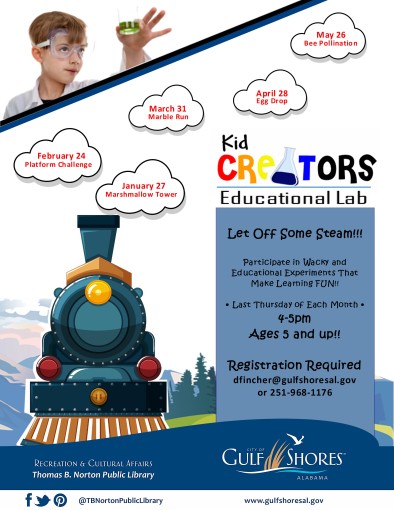 Let off some steam!!  Participate in wacky and educational experiments that make learning fun!!  Experiments are in the areas of science, engineering, math, art, and technology.  The last Thursday of each month from 4-5 p.m. in the library meeting room.  Ages 5 and up are welcome to participate. 
Please register in advance at [email protected] or 251-968-1176.  
January 27- Build a tower from marshmallows and toothpicks!  How tall can it get?
February 24 - Construct a platform using various materials to hold the weight of an apple!
March 31 - Design a pinball (Marble Run) game that actually works!!
April 28 -  What materials can you use to keep your egg from breaking in this egg drop challenge?
May 26 - Learn how bees pollinate flowers in this creative project!