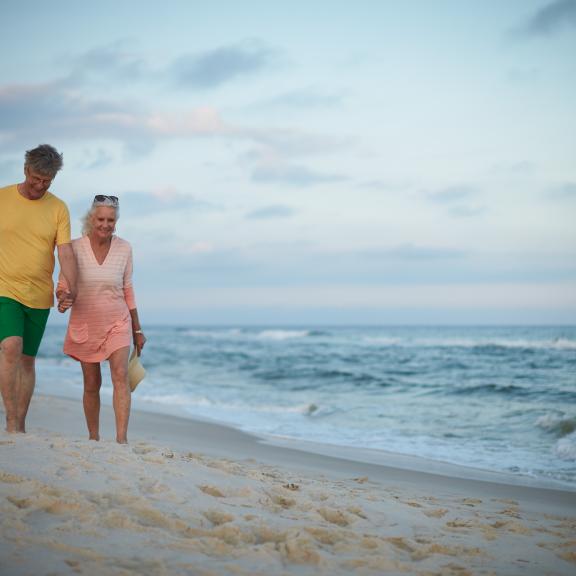 Snowbird Vacations
Gulf Shores & Orange Beach
Snowbirds Are Always Welcome
Trying to plan the perfect getaway during the winter months? Look no further than Gulf Shores and Orange Beach. On the Alabama Gulf Coast, the winters are mild, skies are blue and snowbirds flock to escape the North's freezing blasts. If you are looking for a winter vacation spot to flee the cold, Gulf Shores and Orange Beach are consistently regarded among the best snowbird destinations.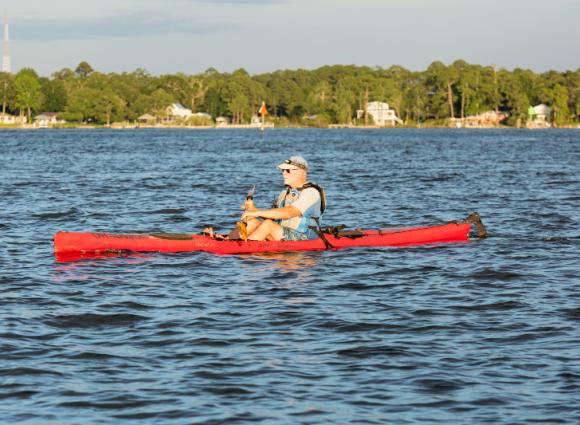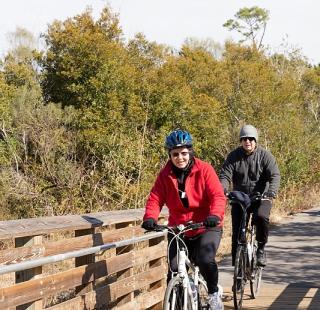 Stay Active, Relax or Both
While everyone up north has hunkered down for the winter, our snowbirds find plenty of relaxation under the sun and a world of activities to explore. Here are the top reasons we're such a revered winter destination:
Events & Festivals - You'll find that our Gulf Coast Calendar of Events is full throughout the year. Join in festivities like live music, culinary festivals, arts and crafts shows, sporting events, nature excursions, history tours and more.
Fishing Charters - Considered one of the premier fishing destinations in the world, the Alabama Gulf Coast offers superb coastal and blue water fishing of all types.
Golf - Fifteen magnificent courses (including some designed by Arnold Palmer, Jerry Pate and Earl Stone) make Gulf Shores and Orange Beach a golfer's paradise.
Hiking - Surrounded by abundant natural beauty, you may be drawn to explore the many local parks and wildlife preserves during your winter trip.
History & Museums - Discover the region's history, which includes not only Civil War and colonial history but also earlier Native American periods as well.
Voluntourism - If the beauty, warmth and friendship of the Alabama Gulf Coast inspire you to make the area even better, the Voluntourism program will be happy to welcome you into its ranks.
Snowbirds Find Winter Home-Away-From-Home
Mild temperatures and white-sand beaches are just two things that keep our snowbird friends coming back to the Alabama Gulf Coast year after year. But, once they get here, they experience a whole new state of community through club activities and theater groups, as well as active lifestyles with golf, fishing and shopping. Come experience a winter paradise where the only thing that resembles snow is the sand on your flip flops.
Social Life and Lasting Friendships
For our snowbirds, Gulf Shores and Orange Beach are a winter home away from home. It's a place to build lasting friendships that continue to blossom with each passing year. Join one of the state snowbird clubs and other organizations sponsored each year by snowbirds. You'll find that your social life here can be as vibrant and full (or as laid back) as you choose
Snowbird Vacation Packages & Rentals
Gulf Shores winter vacation packages offer deals for extended stays when you visit during the winter. If you're a snowbird visiting the Gulf Coast, you won't have to leave the blue skies and warm temperatures until you are ready.  Gulf Coast lodging choices include resorts and hotels, beach house rentals, and beach condos. If you are a camper you'll find many beautiful campgrounds and RV parks offering full-service amenities.
Gulf Shores and Orange Beach have plenty of pet-friendly hotels and lodging options if you are a pet owner! Just check your accommodation requirements and make the necessary arrangements to have your trusted companion join you on your getaway. Whatever your rental needs are this winter, Gulf Shores and Orange Beach have you covered.