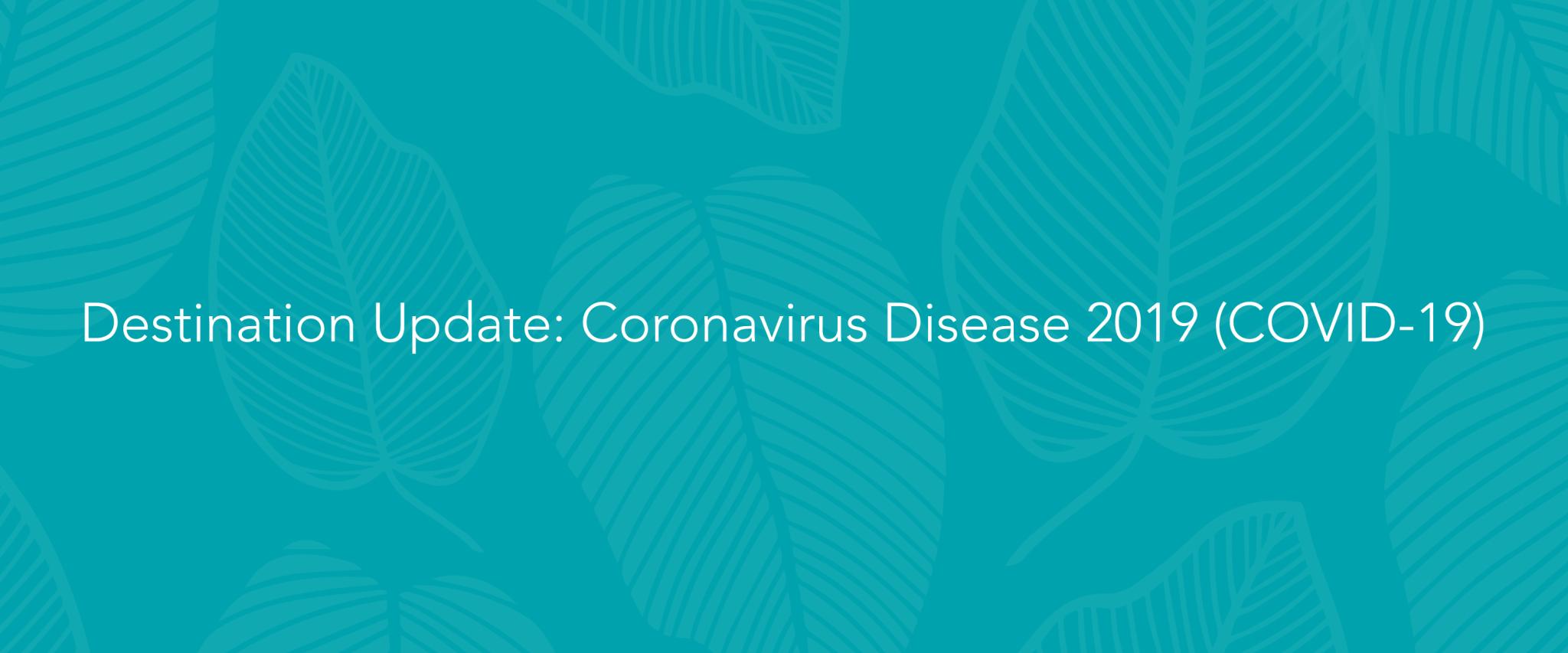 Covid-19 Coronavirus Updates for Industry Partners
Updated March 27, 2020, 2:00PM
Latest Update
Gulf Shores & Orange Beach Tourism is closely monitoring the evolution of coronavirus (COVID-19) by working with local, state and federal authorities. Both Gulf Shores and Orange Beach are working together with the authorities to ensure the health and well-being of both locals and visitors. While there are no cases reported in the Gulf Shores and Orange Beach area, this does not mean people will be safe from the coronavirus if visiting.
On Thursday, March 27, Alabama Gov. Kay Ivey and the Alabama Dept. of Public Health released an updated public health order extending the suspension of certain public gatherings:
• All beaches are to remain closed through April 17, including both publicly and privately-owned beaches.
• All restaurants, bars, breweries and similar establishments (such as ice cream shops) are closed to dine-in customers through April 17. Many area restaurants are offering take-out or delivery as an alternative.
• Other non-essential businesses, venues and activities must close to non-employees March 28 and remain closed to non-employees through April 17. These include entertainment venues, athletic facilities, close-contact service providers (such as nail/hair salons, spas, fitness centers, tattoo parlors, etc.) and retail stores. Online or phone orders, curbside service, home delivery and online fulfillment for non-essential retail businesses is permissible.
The revised statewide public health order can be viewed in its entirety here. 
GSOBT WELCOME CENTERS ARE CLOSED
Due to the recent order mandated by Alabama Gov. Kay Ivey and the Alabama Dept. of Public Health, we have closed both the Gulf Shores and Orange Beach Welcome Centers until further notice and have shifted our guest service to phones and email. Our call center will remain open daily from 8am-5pm and is happy to assist. Please direct guests to the numbers below if they wish to speak with a vacation specialist.
251-968-7511
800-745-SAND
A MESSAGE TO OUR INDUsTRY PARTNERS FROM OUR CEO
Please take a moment to review Herb Malone's letter to industry partners which includes recommendations for transitioning through the uncertain and challenging days ahead.
REQUEST FOR LODGING STATUS
Lodging Partners: If you have closed or plan to close your lodging property (vacation rental, hotel, campground, etc.), please complete this short Lodging Closures form. We appreciate your assistance.
Restaurant Closures & Modifications
All restaurants, bars, brewery and similar establishments (such as ice cream shops and coffee shops) are closed to dine-in customers through April 5. Because of this, many area restaurants have chosen to close or modify their current operations by offering take-out or delivery. 
We are working with the Baldwin County Chamber Coalition's Takeout Blitz effort to encourage locals and visitors to support local restaurants by ordering meals to go when possible. Visit our restaurant changes report  to see which restaurants are offering takeout during this time.
If your restaurant modifying or closing, please fill out this form.
Leisure and Sports Event Cancellations & Postponements
We are updating daily a list of known cancellations and postponements. The list will be updated daily.  
Note: If you are an event organizer, please keep us informed of any event cancellations or postponements by filling out this short form.
Other Business Closures & Modifications
Several local non-dining businesses have elected to close or modify their operations temporarily. Our business closures and changes report will be updated daily.
BUSINESS resources
GSOBT aims to keep our partners informed on the latest resources available as we all navigate these unchartered waters. Below are some resources and information for business owners.
30-Day Outlook as of 3/25/2020 at 10AM
Our analysis of vacation rental occupancy for the next 30 days indicates that occupancy is significantly below the same time period in 2019. Bookings continue to dramatically decline, and cancellations have elevated to a concerning level though the rate of cancellations has started to slow. This outlook is changing hour by hour, particularly as it pertains to cancellations and occupancy. 
Talking Points
• Information provided is from official government sources including the CDC, Alabama Department of Public Health and/or Baldwin County Emergency Management Agency.
• If you are experiencing coronavirus symptoms, call 251-341-2819 for testing information and locations in Baldwin County. Also, the Alabama Department of Public Health has established a hotline for questions related to symptoms and where to get tested in Alabama - 1-888-264-2256.
• At this time, all public boat launches and waterways in Gulf Shores and Orange Beach are still open, as are all recreational trails, public fishing piers, golf courses, and boating and fishing charters. People are strongly encouraged to practice social distancing and stay at least 6 feet from each other and in groups of less than 25 people.
• All restaurants, bars, brewery and similar establishments (such as ice cream shops and coffee shops) are closed to dine-in customers through April 17. 
• As of Saturday, March 28, per the Alabama Department of Public Health, all of the following are closed statewide through April 17:
Tourist attractions including museums, planetariums, arcades, bowling alleys and racetracks
Indoor children's play areas and commercial and public playground equipment
Fitness centers, yoga studios and other group exercise class facilities
Spa and massage-therapy facilities, tanning salons, nail, waxing, and threading salons, barber shops and hair salons, and tattoo studios
Night clubs and bars
Casinos and bingo halls, as well as venues operated by social clubs
Concert and theatre venues
Spectator sporting venues
Retail stores include furniture/home furnishings; clothing, shoe and accessories; jewelry, luggage and leather goods; department stores; sporting goods stores; and book, craft and music stores.
• Grocery stores and pharmacies are remaining open. Shoppers should practice 6-foot social distancing. 
Travel
• The U.S. Department of State advises U. S. citizens to avoid all international travel.
• The White House Coronavirus Task Force and the CDC continue to emphasize that the risk of infection to the American public remains low. The Task Force also urges that all Americans should follow the President's Coronavirus Guidelines, issued March 16:
Avoid social gatherings of more than 10 people
Avoid eating or drinking at bars, restaurants and food courts – use drive-thru, pickup or delivery options instead.
Avoid discretionary travel, shopping trips and social visits.
• The CDC now recommends that older adults and people of any age with serious chronic medical conditions consider postponing non-essential travel.
• The CDC also now recommends that meeting and event organizers cancel or postpone in-person events that consist of 50 people or more through the end of April.
LocaL Resources
The following are recommended as sources for current information and updates:
• Baldwin County Emergency Management Agency (Baldwin EMA) has launched a text alert system for local residents to receive updates related to the virus. Text "BaldwinCOVID" to 888777 to subscribe to these updates.
• The United Way of Baldwin County has activated their "Dial 2-1-1" service for information and access to local agencies providing assistance and response to COVID-19.
• Baldwin County Emergency Management Agency has updated their app to include direct links to updated CDC information. BCEMA encourages local residents and business owners to download the app to have quick access to information and updates.
• The Baldwin County Chamber Coalition has compiled a list of resources, a playbook, toolkits and other items of reference to assist our communities and businesses during this uncertain time. Visit the Coastal Alabama Business Chamber for more information. 
Resources
CVB STRATEGY
We are addressing guest concerns as they arise and will be transparent about our efforts and strategy as the issues surrounding coronavirus continue to evolve.
We have created a landing page on our website that includes coronavirus information and resources for leisure and sports travelers as well as meeting planners and attendees.
We've made a significant shift in messaging to consumers, sports and business travelers, it's no longer our beaches are open, but rather an overarching message of safety and concern for all travelers.
We are using our social media channels as a source of both information and inspiration for our followers, and to answer guest questions concerning COVID-19's impact to the area. We are posting and sharing on social channels daily. The message is to stay safe, stay healthy and we will be here when the time is right. Live feeds take place weekly carrying the message that we also miss the beach, and we are sharing the view until it is safe to come to our shores once again. We encourage our followers to subscribe to our e-newsletters so that they are the first to know when our destination is back in business.
Ad messaging has shifted to one of care and concern with an open invitation to visit when things are better. We have significantly reduced our digital advertising efforts but are maintaining a presence on several platforms. Digital ad messaging reflects that of print advertising. These ads direct users to our homepage where they can quickly access our coronavirus landing page. Preview our new campaign.
GSOBT is monitoring the evolution of coronavirus and will continue to provide our partners and guests relevant information as we receive updates and information.
Questions? Please contact Kim Chapman at [email protected].