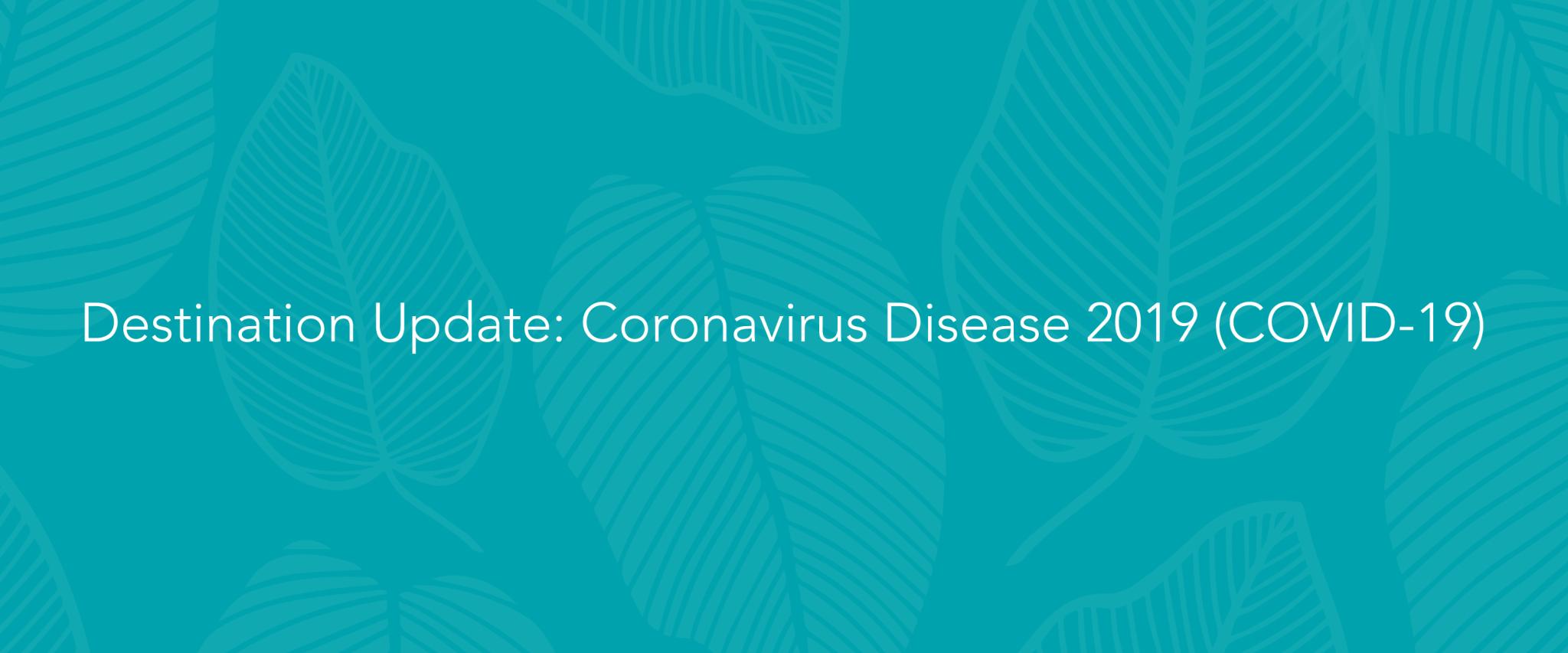 Covid-19 Coronavirus Updates for Industry Partners
Updated February 19, 2021 2 pM
If you are a leisure traveler please visit our Come to Your Senses page.
Latest Update
Gulf Shores & Orange Beach Tourism is closely monitoring the evolution of coronavirus (COVID-19) by working with local, state and federal authorities. Both Gulf Shores and Orange Beach are working together with the authorities to ensure the health and well-being of both locals and visitors. Information provided is from official government sources including the CDC, Alabama Department of Public Health and/or Baldwin County Emergency Management Agency.
The CVB is advising those who contact us to adhere to their home state's guidelines, especially regarding stay-at-home orders and not traveling to other destinations to quarantine, reminding them we are a small destination with limited healthcare resources.
On January 21, Governor Kay Ivey extended the current health order, including the wearing of face masks, through Friday, March 5. 
Face masks:
Wearing a mask/face covering is mandatory in Alabama. Masks can be factory-made, homemade, or improvised from household items such as scarves, bandanas, or t-shirts, and must cover the nose and mouth.

Masks or face coverings must be worn when you are within six (6) feet of a person from another household in all indoor spaces open to the general public, a vehicle operated by a transportation service (including buses, taxis, Lyft and Uber), or outdoor public spaces where 10 or more people are gathered.
The order requires businesses to take reasonable steps, where practicable, to encourage mask use by employees and customers. One example of a reasonable step might be to post signs encouraging customers and patrons to wear a mask. Businesses are not required to deny entry to people who are mask-less, but have the right to do so—and doing so would certainly be a reasonable step to encourage mask use. The state has created printable signage and other resources to assist businesses with mask enforcement.
There are five categories of exceptions. The largest category, exceptions for "practical necessity," covers people or situations where mask use is incompatible with the realities of life—for example, children six or younger, people with certain medical conditions or disabilities, eating and drinking, medical and dental procedures, and so on. There are also categories of exceptions for exercise, for communicating with an audience, and for certain essential job functions. An additional category carves out narrow exceptions for protected activities like voting and religious worship— but even then, wearing a mask is strongly encouraged. Full details on exceptions can be found in the order and FAQ.
There can be a $500 fine for not wearing a mask.
"Safer at Home" guidelines:
Entertainment venues and attractions can reopen and must enforce social distancing requirements of 6 feet between people not of the same household. This included bowling alleys, arcades, concert venues, theaters, auditoriums, performing arts centers, tourist attractions such as museums and planetariums, racetracks, commercial or public playgrounds, casinos and bingo halls.

Indoor and enclosed entertainment venues and attractions can reopen at 50% of normal capacity. Night clubs fall under guidelines for restaurants and bars which require all tables, bar stools or booths to be set 6-feet apart.
Outdoor entertainment venues and attractions can reopen and must limit visitors to an amount that complies with 6-foot social distancing requirements.
All employees must wear face coverings when interacting with the public.
Full guidelines can be found in the Alabama Dept. of Public Health's Guidelines for Entertainment Venues and Tourist Attractions.

Team athletic activities for adult and youth sports can resume practices (conditioning, skill drills and similar activities), but sports events/competitions cannot start until June 15. Social distancing is required; players, coaches and officials must wear facial coverings at all times except when participating in the athletic activity; and additional requirements for coaches, players and spectators can be found in the Alabama Dept. of Public Health's Guidelines for Adult and Youth Athletic Activities.
Day and overnight camps can be held, but 6-foot social distancing must be enforced; camp employees must wear face coverings when interacting with campers and guests; and group activities must follow the same guidelines as listed for team athletic activities; additional requirements can be found in the Alabama Dept. of Public Health's Guidelines for Day and Overnight Youth Camps.
Residents and visitors are still strongly encouraged to wear face coverings in public.
People are still strongly encouraged to continue limiting trips out of their home/residence and continue following good hygiene/sanitation practices.
All public and private beaches along Alabama's Gulf Coast, including Gulf Shores, Orange Beach, and the Fort Morgan peninsula are open for normal use with no limit on gatherings. People must maintain 6-foot social distancing between themselves and anyone not in their group.
Pools at hotels and condominiums are open. However, people must maintain 6-foot social distancing at all times. Hotel and condominium properties may implement their own policies to best manage pool access.
All public boat launches and waterways in Gulf Shores and Orange Beach are open, as are all recreational trails, public fishing piers, golf and miniature golf courses, and boating. People are strongly encouraged to practice social distancing and stay at least 6 feet from each other.
Charter fishing is open, but boats must maintain 6-foot social distancing between clients not of the same household. Charter operators must also regularly disinfect frequently used items and surfaces.
Grocery stores and pharmacies are open. Other retail stores are open and must limit shoppers to 50% of the store's normal occupancy rate. Customers must practice 6-foot social distancing.
Anyone testing positive for COVID-19 will be quarantined to their place of residence for 14 days after receiving a positive test result.
Public gatherings: There are no limitations on numbers of people allowed to gather, but 6-foot social distancing between people from different households must be enforced. This means church worship services, weddings and funerals can resume, and churches must follow the Alabama Department of Public Health's Guidelines for Places of Worship.
All employers must take reasonable steps to protect employees by following the Alabama Department of Public Health's Guidelines for Safeguarding All Businesses.
All restaurants, bars, breweries and similar establishments (such as ice cream shops and coffee shops) can open to dine-in customers. These businesses must limit any party size to no more than 8 people, must ensure social distancing between tables unless tables are separated by solid partitions such as plexiglass that are as large as possible and impermeable to respiratory droplet or aerosols. They must also require employees to wear face masks, and do away with self-service options like drink stations, buffets and salad bars. Full guidelines to follow are included in Alabama Department of Public Health's Guidelines for Restaurants and Bars.
Athletic facilities including fitness centers, yoga studios and other group exercise class facilities can open at normal capacity provided customers maintain 6-foot social distancing unless customers are wearing masks and are separated by curtains or other partitions such as plexiglass. Employees must wear face masks when interacting with customers, and recreational water or spa facilities (sauna, hot tub, showers, etc.) are to remain closed. Pools may open, but people must maintain 6-foot social distancing. These facilities should follow the Alabama Department of Public Health's Guidelines for Athletic Facilities. 
Hair salons and barber shops; nail, waxing and tanning salons; spa and massage therapy facilities; and body art and tattoo studios can open. These businesses must enforce social distancing, employees must wear face masks at all times, and the facility must follow the Alabama Department of Public Health's Guidelines for Close Contact Personal Service Businesses.
For details, reference the following documents:
TRAVEL SENTIMENT RESEARCH FINDINGS
Destination Analysts has been continuously researching travel sentiment in the wake of coronavirus. View the report here to learn more about how people are feeling about travel, top travel experiences and how they expect businesses to prioritize safety during this time.
WELCOME CENTERS
As of Friday, May 1, both of our welcome centers have reopened with many new safety measures in place for guests and staff. Visit our Welcome Center page to learn more about those details and the temporary change to our weekend hours.
Recommendations for local business
As visitors are returning to our area, GSOBT strongly recommends that industry partners be very open in communicating the cleaning and safety protocols you are implementing at your business to ensure the safety of your employees and guests. Based on traveler sentiment studies GSOBT has reviewed, visitors will want to know specifics on what lodging properties, restaurants, attractions, etc. are doing as it relates to cleanliness and health safety. Please consider detailing this information on your website, social media channels and on-site at your business, as well as training your employees to know these protocols by heart so they can quickly and confidently answer guest questions. Visit our RESOURCES page for recently issued guidelines.
Restaurant Closures & Modifications
Restaurants who have elected to close temporarily will be indicated as such on the business listing on our website. For any changes please contact, Jeff Rodewald at [email protected]. 
Other Business Closures & Modifications
Due to the updated public health order released March 27, area non-essential businesses have been impacted. Many have temporarily closed, and others have modified their services to comply with the new guidelines. For any changes please contact Jeff Rodewald at [email protected]. 
Business Resources
Visit our business resources  page for a complete listing of local and national resources and relief efforts.
CVB STRATEGY
Maintaining flexibility in our 2021 marketing plan is critical to our success. As we demonstrated in 2020, the ability to quickly shift focus and messaging permits us to continue marketing our destination as guest concerns and travel habits fluctuate. This Q1 marketing snapshot summarizes our first quarter efforts.
Questions? Please contact Kim Chapman.