Cobia's Caught! Annual Migration in Full Swing
Part Of The What's Biting Series
April 11, 2014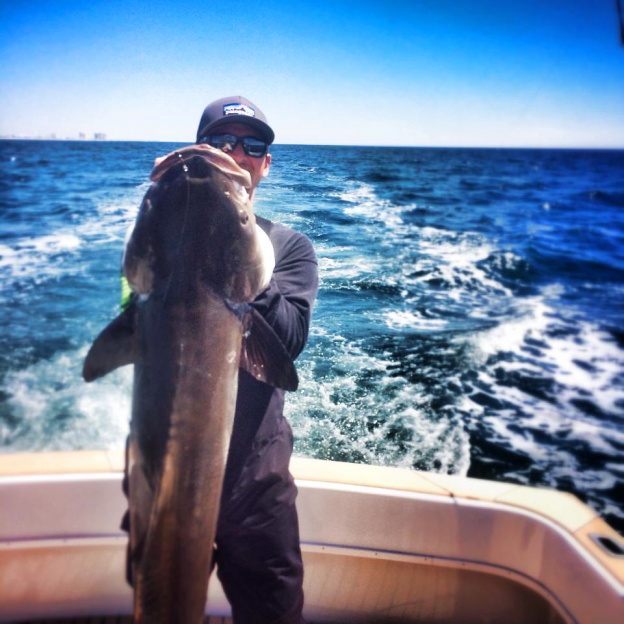 Every fisherman wants to catch the biggest fish. But with cobia fishing, catching the first fish is an even more prestigious catch. Last week, cobia (Ling, Lemonfish, Crab Cruncher, whichever you prefer) were being caught in Destin and Pensacola, so it was just a matter of when the first one would land in Alabama.
"On our first trip out early last week, we started seeing migrating fish as soon as we left the Perdido Pass," said Captain Johnny Dorland of the Cotton Patch based in Orange Beach. Cobia migrate from south Florida to the northern Gulf of Mexico every spring. As they travel along the coastline, anglers spend countless hours hoping to catch a glimpse of the brown bombers.
That migration pattern takes them right past the Gulf State Park Pier in Gulf Shores. Experienced anglers like Wilson Gregory of Orange Beach know to look to the east in the early spring. "I saw a school of six fish coming toward the pier and was able to hook one out of that school." That lead to the first lost cobia of the season as it shook free right before being gaffed. But Wilson kept looking, and the cobia kept coming.
"I threw a bright orange jig at a solo fish, but he was not interested in eating. Then, another school of five fish came by, and one of those inhaled the jig after it twitched a few times. Like any big fish at the pier, it was tense for a while, but with lots of help, we were able to get him over the rail." Maybe a little later than years past, but April 3 marked the first fish caught during the 2014 season.
After Wilson's catch, multiple boats reported catching fish as well as additional fish being caught at the pier. Cobia fishing is a lot like hunting as these fish are primarily caught by sight fishing – a very rewarding albeit sometimes frustrating method. Hours are spent staring at the water in hopes of spotting fish. Once the fish is spotted, the angler must make a perfect cast presenting either a live bait (eels, small catfish, baitfish, or crabs) or a jig to the fish. Even when all that is done perfectly, it's still fishing with no guarantees. As these fish pass arrive in our area, they have been thrown at hundreds of times on their passage north and can become very hook shy.
But when it all comes together and you land a trophy cobia, you rightfully feel like the "Ling King."