What's Biting Report: Captains' Favorite Tunes to Reel in the Fish
May 18, 2014
[caption id="attachment_3399" align="alignright" width="300"]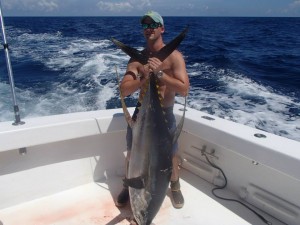 A large yellowfin tuna caught on the Intimidator.[/caption]When Stevie Wonder closed the Hangout Festival with a rousing rendition of Superstition last year, I am sure he was not singing
about fishermen. But we are a very superstitious bunch (we'll explore that in a future edition of What's Biting) even when it comes to the music we play in our boats. Since this is Hangout week, I asked around the docks if music really helped to catch more fish.
"If I had to pick one musical group to help me raise a fish, it would be the Nitty Gritty Dirt Band," said Johnny Greene of the charter boat Intimidator. Greene says music on his boat ranges from old country tunes to today's hard rock.
Scott Cooper from the boat CE plays the same song every time he pulls away from the dock. "'Parking Lot Party' by Lee Brice is on as soon as we toss the lines and then we listen to country on satellite radio until we get back home," said last year's winner of the Emerald Coast Blue Marlin Classic.
Ricky McDuffy and his clients on the charter boat Sea Hunter also have "Parking Lot Party" on their short list along with "Hicktown" by Jason Aldean. McDuffy does not have a particular song for departure, but he sure has a favorite group for arrival.
When spectators at local tournament weigh-ins hear AC/DC coming from the Sea Hunter, the crowd knows a big fish is about to hit the dock. "It is a fun part of the trip for the customers; they love having the music on loud and making a grand entrance to the scale," said McDuffy. The Sea Hunter has been a very successful boat on the tournament circuit over the years.
No surprise that here in the deep South that country music is a popular choice on board. The crew on You Never Know likes Blake Shelton, Alan Jackson and Big and Rich but when they are desperate for a bite they turn to a fishing classic. "'Blue Marlin Blues' by George Straight. It is sort of a funny song, but we always have it in the rotation, and it always seems to bring us luck," said first mate Stan Blackman. You Never Know won the Mobile Big Game Fishing Club Memorial Day Tournament last year.
I had a red hot summer a few years back fishing on the Amante with Captain Mike Rogers. I do not even remember how we got turned on to Kid Rock at the time, but we played him a lot, and it was loud. The only thing louder was our cheers when we caught a record setting yellowfin tuna!
Are certain songs more apt to make fish bite? Probably not, but I won't head offshore without some Kid Rock, just in case the fishing is slow. As Stevie sang on our beach, "Very superstitious, nothin' more to say."