What's Biting Report: Reel in Marlin off the Coast of Alabama Beaches
August 22, 2014
[caption id="attachment_3684" align="alignright" width="225"]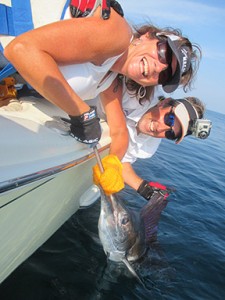 Marlin off the coast of Orange Beach. [/caption]Let's talk about shots. Skin Deep, six for ten. Half A Drink, two for five. Proud Mary, four for seven. CE, four for twelve. Rebel,
three for eight. Billfishing is all about the 'shots.' As in, how many shots did you have today? Usually when you see boats getting lots of shots, it's in places like Guatemala, Costa Rica, or Dominican Republic. But sometimes, like right now, the marlin bite we have here just off our coast is as good as anywhere else in the world.
"We had our boat in the Dominican Republic this winter, and the bite that is going on here now is better than anything we saw down there," said Chris Haley owner of Skin Deep. Haley and his crew had fifteen white marlin in the baits last week while fishing in five hundred feet of water around the nipple. They ended their day catching and releasing six white marlin. "To see that many billfish in one day in the Gulf of Mexico is truly a historic day."
Captain Johnny Bullock on Rebel released three white marlin during a recent trip around the hundred fathom curve and had shots at several others, including multiple shots at blue marlin. Bullock has not seen a bite this on fire since back in 2007. On a two-day trip that year, the captain known as Bulldog around the docks had twenty-five bites on one trip. "The fish are always around that area but just not in these numbers."
Looking at satellite imagery for the past few weeks has shown a lack of blue water in much of the Gulf. While the water has not been cobalt blue around the nipple, it has been clean and loaded with bait. Pelagic fish travel great distances following bait, and that path has brought them to our local honey hole.
As exciting as white marlin fishing is, it can also be just as aggravating. It is not uncommon to hear boats going 'ohfer.' O-for-four, o-for-eight or even o-for-ten. White marlin can be the most finicky of billfish leaving many captains, crews, and anglers frustrated. "The lighter the tackle, the better for whiteys," says Bullock. "I fish twenty and thirty pound set-ups. I also like to use long shanked hooks, and they have to be very sharp." Using smaller reels will result in less tension felt by the fish after a strike with light drag settings. White marlin are very prone to dropping a bait before they attempt to swallow it if they feel the slightest amount of tension on the line.
White marlin have numerous salty language producing habits. They amp up your excitement by appearing in your spread, and then crush your spirits by not eating anything you have to offer. When they do decide to eat, many times they grab the lure or the bait and put on an acrobatic show only to spit the hook a few seconds later. I recently went two for five jumping off three fish. Those three fish kept me awake that night. My anglers did nothing wrong, and yet we were heartbroken all three times.
Bullock says that's just the nature of white marlin fishing. "Some days they just want to eat, and they aren't that finicky. Those are the days that you catch big numbers. But other days, they just don't seem to want to commit to the bite." Some boats seem to have better luck with lures while others favor fishing natural baits. The tried and true ballyhoo Ilander combination along with small Moldcraft type lures are most commonly used in our part of the Gulf.
As we mentioned a few weeks back, big game fishing isn't limited to large sport fishing vessels. During the past two weekends, there have been plenty of center console boats trolling and catching white marlin. This is a bite that will be talked about for fishing seasons to come, so now is that time to get out there, and take your shot!