What's Biting: Tuna surprises leave big eyes
October 7, 2015
I've always thought one of the best parts of fishing is the surprises: the surprise of the strike when a quiet day of trolling turns chaotic as the reel starts screaming, the sudden heaviness on your line when a big snapper grabs your live bait or when your jig stops falling because a fish has eaten it on the way down. It goes all the way back to fishing as kids, when all of sudden your bobber would go under water.
Some of the best surprises come when the fish you have hooked is brought in the boat, and it's not what you were expecting. Tunas don't usually provide many surprises unless you have never been on the business end of the rod while fighting one. The first time you catch a tuna, especially a big Yellowfin, you will not only be surprised but fully shocked at the power a tuna possesses.
[caption id="attachment_5718" align="alignright" width="225"]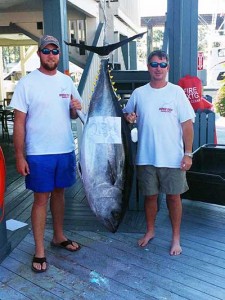 Captain Bo Keough is pictured with the Alabama state record Big Eye Tuna.[/caption]
For me, one great surprise that does occur  while tuna fishing is realizing the Yellowfin you just put on the deck or cleaning table isn't a Yellowfin, but instead a Big Eye Tuna. We don't catch all that many Big Eyes around here, but sometimes when we do they are wrongly identified as a Yellowfin. If you mistake a Big Eye for a Yellowfin, there is certainly no harm done, but who doesn't like to add another notch in their belt of species caught? It just takes a keen eye and a little practice to notice the difference.
"The eye is definitely bigger than the eye of a Yellowfin. Big Eyes are deeper feeders than other tunas. That bigger eye allows them to see their prey better in deeper water, " said Craig Martin, a local marine biologist and tournament weighmaster along the Gulf Coast. In addition to the eye size, Martin says examining the fins can provide you with the answer. "The pectoral fin on a Big Eye is not nearly as stiff as the one on a Yellowfin. It is also much longer on a Big Eye, and it is pointed at the end. On a Yellowfin, the pectoral fin is more rounded, but sometimes on smaller fish it's not as noticeable as it is on bigger fish."
Martin says the most helpful way to identify your catch as either a Yellowfin or Big Eye is by closely looking at the finlets (the small fins located between the dorsal fins and the tail). "A Yellowfin has bright yellow finlets with little to no other coloring on them. A Big Eye will have yellow finlets but also a distinctive black edging around each of the one."
I remember a few years back fishing around the Ram Powell rig. We caught about a half dozen tunas in the 40 to 50 pound range. The action was fast and furious just before sunset. We spent the night and returned home to clean the fish the next day. As I always do, I prepared and gave away a bunch of that fresh tuna. It was maybe the best tuna I had even eaten. That was also the response I got from those on my very short 'fresh fish list.' After going back and looking at the pictures and I realized those Yellowfins were Big Eyes. I love fresh Yellowfin, but the Big Eye was an even better grade of tuna in my opinion.
It's nearly impossible to target a Big Eye. But since they tend to be found in deeper waters, working a jig deeper than you usually would around a rig will give a better chance. Most Big Eyes are caught as incidental by-catch when targeting Yellowfin or Blackfin Tuna.