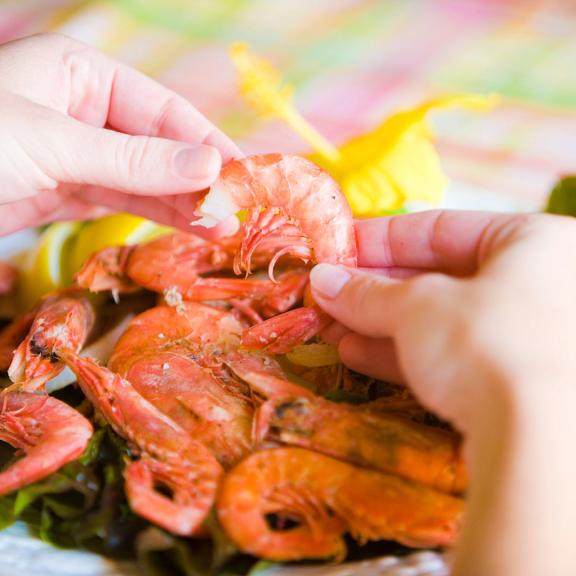 Find Savory Seafood on the Alabama Gulf Coast
It's widely known among seafood fans like myself, and foodies of every caliber, that fresh Gulf seafood is not only healthy for you, but the best tasting! The finest can be found at local restaurants along Alabama's beaches.
May 24, 2019
When not eating a Cheeseburger in Paradise at Lucy Buffett's LuLu's in Gulf Shores, I'm devouring the Summer Shrimp Salad from their menu! Another fun fact about LuLu's is the Gulf Shores restaurant uses Fish Trax, a system allowing patrons to know exactly where their red snapper is coming from, and I like that 100% transparency!
The Hangout in Gulf Shores is also a favorite place to just hang out, along with ordering the fresh, local, tempura fried speckled trout fish tacos that must be savored while enjoying the open-air restaurant's magnificent saltwater view. The Baja sauce and cilantro lime slaw really round out the flavors of this dish, I guarantee.
If you're heading to Orange Beach, make reservations for an incomparable meal at Fisher's At Orange Beach Marina, Johnny Fisher's newish restaurant concept with Chef Bill Briand at the helm. The menu is Louisiana inspired and packed with seasonal ingredients that are constantly rotating.
Whether casually dining at Fisher's Dockside located downstairs, or upstairs for a more upscale experience with comfortable coastal décor and stunning natural scenery, either level will be satisfying to the taste buds, as well as memorable. Take note, they serve my favorite raw, Alabama farm-raised oysters called Murder Point Oysters that have a distinct butter flavor.
You can't leave the area without a stop at the renowned Flora-Bama Lounge & Oyster Bar for their famed bushwacker, or a few moments to enjoy the Greek Shrimp Nachos across the street at Flora-Bama Yacht Club! Chef Chris Sherrill is well known in the area for experimenting with underutilized species, especially the light and delicate lionfish! Alabama's shrimp fleet travels the Gulf of Mexico, harvesting the rare deep-water royal red shrimp during the summer months. Royal reds are naturally salty and sweet.
This recipe for Royal Red Shrimp Salad is sure to fulfill, when not heading out to dine at one of the many fantastic restaurants in Gulf Shores and Orange Beach.
Royal Red Shrimp Salad
By: Susan Benton
Ingredients
3 lbs. fresh royal red Alabama Gulf shrimp (in shell with head on) or substitute 16/20 brown shrimp
3-4 tablespoons Old Bay seasoning
1 cup water
1 cup white wine vinegar
½ cup mayonnaise
½ teaspoon ground sea salt
¼ teaspoon ground pepper
2 celery stalks, minced
½ lemon and its zest
2 tablespoons snipped chives
1 tablespoon small-diced red onion
Directions
Steam the shrimp in a basket in a large heavy-bottom pot with water, white wine vinegar and Old Bay seasoning for 4 minutes or until shrimp are not opaque. Drain the water and set the shrimp aside to cool. Peel, de-vein, and chop the shrimp in large chunks. Place shrimp in a large glass bowl, cover and place in the refrigerator for an hour. Remove the shrimp from the refrigerator and add mayonnaise, celery, salt, ground pepper, chives, lemon juice and lemon zest. Gently fold together until covered. Taste for seasoning. Return to the refrigerator for 30 minutes and serve chilled, or wait 15 to 30 minutes, and serve at cool or at room temperature.
Tips: Serve on rolls to make shrimp rolls, on its own nestled on a bed of fresh Bibb lettuce, or enjoy with a seasonal salad on the side.
Option: Add 2 hard-boiled eggs, finely chopped, and a pinch of fresh, finely chopped dill for a different take on this Alabama classic.