What's Biting: Tips for Saltwater Santa
December 9, 2015
As the holidays approach, it's time again for my 'Saltwater Santa' suggestions. This year, my list is focused on the thought that the best gift isn't something you'd buy for yourself but would love for someone else to buy for you.
[caption id="attachment_5947" align="alignright" width="300"]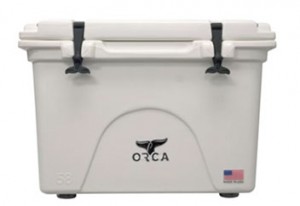 I have two ORCA coolers that were given to me as gifts, and I love them.[/caption]
Let's start with coolers. Boaters and fisherman have elevated coolers from being just tools to keep things cold to status symbols. The two most popular names are Yeti and ORCA. They both look and work great. I have two ORCA coolers that were given to me as gifts, and I love them. If you are giving the gift of one of these roto-molded coolers, the recipient must be someone very special. One of these coolers will make a grown man scream on Christmas morning like a six-year-old getting a new bike.
Keeping our list cool, I can't think of anyone who wouldn't love a cup that keeps their favorite drink cold, really cold all day or their hot drink piping hot. Again, both Orca and Yeti make stainless steel tumbler-style glasses that are both functional and eye-catching, and they fit perfectly in a stocking. Yeti also makes a $30 can koozie, The Rambler Colster! A $30 koozie, really? Yep. I have one, and it rocks! It keeps your favorite can beverage cold until the last swallow. Remember what I said about the best gift is one you wouldn't buy for yourself. Not sure I'd drop $30 on this, but when my wife and dogs gave me one for Father's Day, I was more than excited to try it out!
One gift I have given out many times is a membership to the non-profit The Billfish Foundation. In addition to advocacy work for billfish conservation, The Billfish Foundation is a great way to record your catch of a billfish. They have an online database to enter your catch and then print a release certificate that is perfect for framing. I have given out framed certificates several times, and they are still proudly displayed in the homes of my friends and family members.
Something that I added to our boat this year that was inexpensive (inexpensive and boat rarely goes together in the same sentence), and it was enjoyed by everyone on every trip. If you're on a boat and wearing sunglasses, they are going to get spray on them. I cannot stand one spec of saltwater on my glasses.
Somehow, I got turned onto disposable pre-moistened lens wipes. This was a game changer. Use the wipe once, and throw it away. Now everyone always has clean sunglasses on the boat. You can also use them to wipe off any electronic screens on the boat. You can buy them in small or big boxes. I get the 200 count box for less than $10 and keep them on the boat, in my truck, my laptop bag and always within reach. They are not only a great holiday gift, but I always bring a box when hopping on someone's else's boat to use and leave behind as a thank you for the invite.
Happy holidays and happy shopping, hopefully at one of our local tackle shops this holiday season.