Two Ways to Plunge into the Polar Bear Dip
December 14, 2015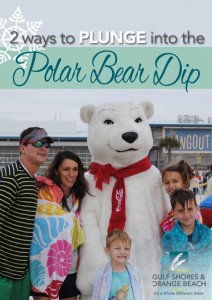 There's no better way to start a new year than with a fresh outlook, but how do you get started on the right foot? With a polar bear dip, of course! Since the 1920s, brave souls and adventure seekers have been dipping their bodies into chilly waters on New Year's Day at high noon all over the U.S., Canada and the Netherlands. Thousands of people across the globe take the plunge each year to mark the start of a new year and new beginnings.
In Gulf Shores and Orange Beach, those wishing to jolt their bodies into 2016 have two options – the longstanding Polar Bear Dip at the Flora-Bama Lounge and Package and the 5th Annual Slip & Slide Polar Bear Dip at the main public beach in Gulf Shores.
Participants at Flora-Bama will be treated to a traditional New Year's Day feast of black-eyed peas, ham and cornbread. Dippers at the Slip & Slide Polar Bear Dip have non-traditional options. A 33-foot, two-lane slip and slide will deposit sliders directly into the Gulf. However, you can also take the traditional route into the water, as well. Following the plunge, participants will be treated to a post-dip party at The Hangout with live music.
Make note of these tips if you choose to take the plunge:
Come in costume. Why? Because it's more fun! You'll find all sorts of characters at both Polar Bear Dips.
Bring a towel. If you forget yours, you can purchase a Polar Bear Dip souvenir towel in the Flora-Bama gift shop.
Bring a friend . . . or three! Jumping in the Gulf on New Year's Day is always more fun with friends!