Plan a Romantic Valentine's Day Beach Getaway
January 7, 2016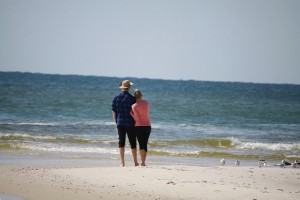 The winter months are busy for most folks with holidays, busy calendars and cooler weather moving in. However, if you have a moment to be forward-thinking, you can plan a romantic getaway now that will be much needed and appreciated in February when Cupid comes calling. Alabama has much to offer in terms of tourism and romantic getaways, and one of my favorite destinations is the coastal region. The Gulf Shores and Orange Beach areas of South Alabama pose the perfect oasis for romance, with beautiful, white, sandy beaches and turquoise waters creating serenity. Milder temperatures, no crowds and nature's beauty combine to create a Valentine's Day like no other. Tips for the perfect Valentine's Day in the Gulf Shores and Orange Beach area:
Choose a room with a view. I know you're seeing dollar signs when you hear "choose a room with a view," but February is the off season and with that comes great lodging deals! From beachside cottages to luxury hotels and roomy condos, this is the time of year to splurge and get that room you have always wanted! Places like Caribe Resort (located on 30 pristine acres of a peninsula) are offering winter specials through the end of February, with the fourth night FREE! Spacious condos with state-of-the-art amenities are great for couples who might want to cook in the privacy of their room and enjoy an evening to themselves. Be sure to check out this and other offers.
Choose a great eatery. Valentine's Day always includes a fabulous meal, and what's better than a romantic meal at one of the area's fine restaurants like Louisiana Lagniappe at SanRoc Cay? Enjoy fresh Gulf seafood or an amazing steak with a Creole flair. Visit the website for more romantic culinary suggestions.
Book a couple's massage. Pamper yourselves with a relaxing massage at one of the area's premier spas such as Fusion Spa Salon at The Wharf! Choose from a full-service menu and indulge!
Catch the sunrise and sunset. There nothing more lovely or romantic than holding hands and strolling the beach or sipping coffee while awaiting an awesome sunrise or stunning sunset.