Top Activities for Teams and Athletes to Enjoy on the Off-Season
October 26, 2016
Some of the warm-weather activities in Gulf Shores and Orange Beach may not be available with the milder temperatures in the fall and winter. For those teams, athletes and fans who want to stay active during their downtime while on Alabama's beaches, there is still an abundance of fun to be found outdoors.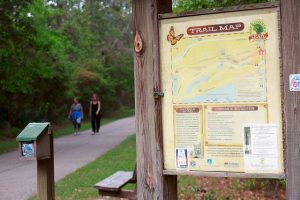 Did you know that there are woods and wetlands to explore along the coast? It's an ideal alternative to a walk or jog along the beach, and it's a popular choice for many. Those with an affinity for nature will love getting a peek at the diversity of plants and animals indigenous to the area. It's a fantastic activity for those with kids, plus it's a great way to unwind and relax after a sporting event.
With miles of paved trails, the Hugh S. Branyon Backcountry Trail runs through Orange Beach, Gulf Shores and the Gulf State Park. The trail features spectacular scenery, including swamps and old pine forests. Wildlife such as butterflies, deer and alligators inhabit this peaceful area. Whether you want to walk, jog, run or ride a bike, this is the ideal spot to immerse yourself in the beauty of nature.
Another way to experience the indigenous flora and fauna of the area is by hiking the beautiful Bon Secour National Wildlife Refuge Trails. The various trails will take you through dunes, swales, wetlands and maritime forests.
Getting out on the water is certain to give you some of the best views on the gorgeous Alabama Gulf Coast. When you paddle out on a kayak, you'll have a chance to closely observe the aquatic life on the Gulf or on the Bon Secour River. Anglers who are looking to reel one in can opt for a fishing kayak.
Which of these outdoor activities would you prefer during your visit to the Alabama Gulf Coast this fall or winter?