3 Reasons to Attend the Annual Festival of Art
Orange Beach's biggest art event offers something for everyone.
November 20, 2019
Dive deep into coastal culture with a visit to the annual Festival of Art. This year marks the 46th anniversary of the festival held annually in Orange Beach celebrating the arts, including visual and fine arts, crafts, glass art, pottery, painting, sculpting, textile art, wood art and more. The 2020 festival will be on March 14 and 15, from 10 a.m. to 5 p.m. daily, at Orange Beach Waterfront Park.
Guests will find a smorgasbord of talent and creativity as artists give live demonstrations and display their works. More than 100 artisans working in a variety of mediums will be on hand for the festival. Performing artists will entertain festival goers throughout the two-day event on the banks of Orange Beach's Wolf Bay.
Be sure these three attractions are on your "Don't Miss" list while at the 2020 Festival of Art:
Kid's Art Alley. Bring your budding artists for hands-on art stations, including high-quality art projects that are perfect for multiple ages. In the past, places like Alabama Gulf Coast Zoo and Gulf State Park Nature Center have offered animals on display for interaction in the Kid's Art Alley. Check the site regularly for times and offerings closer to the event date.
Music & Songwriter's Stage. Several artists will entertain crowds on the Music & Songwriter's Stage including Roman Street, Three Bean Soup, Coconut Radio and more. Also, the Performing Arts Stage will feature fun entertainment in various forms from ballet to karate!
Live Demonstrations. Stop by The Hot Shop and The Clay Studio for live glassblowing and pottery demonstrations throughout the day on Saturday and Sunday. You'll gain a new appreciation for these unique art forms and maybe sign up for a future class!
Admission to the Festival of Art is free; however, no parking is available onsite. Public parking is available nearby at The Wharf in Orange Beach (west side near the Orange Beach Event Center). Shuttles will provide transportation to and from the festival for $5 per person. A Bike Village will be available for those who want to bike to the festival.
Consider planning a trip to Orange Beach during the Festival of Art and support this exciting event! It's another great reason to visit during shoulder season when rates are even lower on Gulf Shores and Orange Beach condos, beach houses and hotels.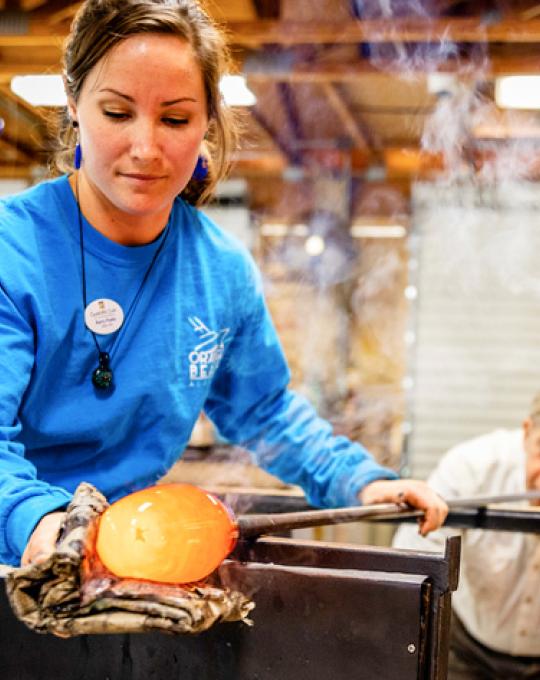 More Ways to Experience Beach Art
Treat yourself to a lesson in glassblowing or pottery making at The Hot Shop and The Clay Studio at the Coastal Arts Center of Orange Beach. Take home your own, unique and personal souvenir. Plan to take your lesson at the start of your trip so your artwork will be ready before you depart. If you can't plan it at the beginning, the art center staff will ship your piece to you.