New Year, Fun Things To Do: Alabama Gulf Coast
December 1, 2017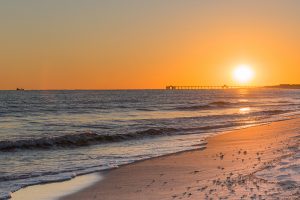 Let the beauty of Alabama Gulf Coast help you escape your winter blues. January is the perfect time to come to Gulf Shores and Orange Beach to soak up some sun with blue skies, stroll the sugar-white sand beaches and admire the beautiful turquoise waters of the Gulf. And the beginning of the New Year also brings lots of fun things to see and do, scrumptious dining experiences and one-of-a-kind events. When planning your getaway, explore the many charming accommodation options from beautiful beach rentals to luxury hotels to one of the many well-equipped campgrounds. You will go home relaxed, with lots of memories and with a strong longing to return soon.
Things to do in January:
7th Annual Kiwanis Polar Bear Dip January 1, 12pm-2pm. Free to participate but $5 charitable contribution is encouraged. Ring in the New Year Gulf Coast style. Take the plunge into the Gulf of Mexico for a unique, family-friendly Polar Bear Dip in Gulf Shores. If you brave the cold Gulf water, you will be treated to complimentary hot chocolate and chili. Afterwards, you can go to the post dip party at The Hangout featuring music by the Gulf Coast Blues Boy, Jamell Richardson, along with a special menu consisting of traditional New Year's Day fare. For the sports fanatics, check out the college football bowl games on The Hangout's 20+ TV screens.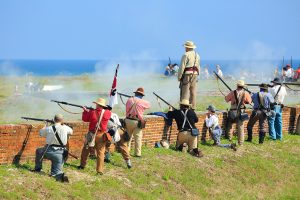 Civil War Tour Series Every Tuesday at 2pm (general admission) a historian will guide you on an hour-long tour of Fort Morgan while speaking on a different historical topic. Learn more about the history of the area as you take in the beautiful sites of the fort.
Jan 2: Fort Bowyer

Jan 9: Early Civil War

Jan 16: Battle of Mobile Bay
Jan 23: Siege of Fort Morgan

Jan 30: All Eras of the Forts History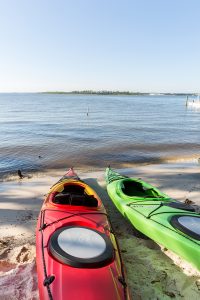 Bon Secour National Wildlife Refuge Kayak Tour Tour dates vary. 10am-1pm. Adults: $65 Children (17 & under): $50. Take a break from the bustling beach and enjoy three-hours of peaceful and tranquil paddling in the secluded inlets of the Bon Secour National Wildlife Refuge. Led by experienced coastal nature guides who will introduce you to migratory birds, nesting Loggerhead and Kemp's Ridley sea turtles, the endangered Alabama beach mouse and maybe some frolicking dolphins. You will make tons of memories on this kayaking adventure.
Some Enchanted Evening ~ The Music of Rodgers & Hammerstein at South Baldwin Community Theatre. Performance dates vary. 7:30pm-10pm. Adults $19.95 Students $15. Without realizing it, the songs of Rodgers & Hammerstein have become an integral part of your everyday life. You sing their songs in the shower and you hear them on the radio, in clubs, in elevators and supermarkets too. This stunning collection of compositions places five performers in a theatrical setting-- first backstage, where the songs are sung as personal interplay, and then onstage. This is a not-to-be-missed production.
Welcome Center Showcase and Lecture Series Weekdays from Monday, January 15 to Wednesday, February 28 (times vary) at the Welcome Centers in Gulf Shores and Orange Beach. The Alabama Gulf Coast has many interesting local artisans, nature tourism specialists, historians and others who are devoted to the area. Come listen and learn from them at the free educational showcases and lectures.
Adult Culinary Classes presents Sushi Style January 20, 4pm-6:30pm. Admission: $40 at Coastal Alabama Community College, Gulf Shores Campus. Come join Instructor Dede Trotter and have a great time preparing sushi in a traditional manner and with some creative twists. P.S. Sushi does not mean raw fish.
2018 Reese's Senior Bowl January 27, 1:30pm-5:30pm. Admission: $30, $20, $10. The Senior Bowl is college football's premier senior showcase event featuring the nation's best senior collegiate football stars and top NFL draft prospects. Senior Bowl practices and game week festivities are attended by more than 800 general managers, head coaches, assistant coaches, scouts and other front office personnel from all 32 National Football League teams. Making Mobile and the Senior Bowl a week-long host to a one-of-a-kind NFL Coaches Convention. Keep in mind that Mobile is only a short drive from the beaches of Gulf Shores and Orange Beach.
2018 Winter Edition of Small Town, Big Beach Productions presents Moscow Meets Manhattan Dueling Pianos Plus January 30, 7pm-9pm. Tickets are $35 at Erie Meyer Civic Center. Brian Gurl and Katherine Alexandra's hit show takes you "Around The World in 88 Keys" - featuring pieces from Argentina, Spain, Hungary, Russia, and America. This show features dazzling piano duets, soaring vocals and novelty pieces with shades of Victor Borge and is rich with brilliant artistry, humor and energy. This dynamic duo will thrill you with a repertoire from Rachmaninoff to Ragtime, Billy Joel to Broadway and Gypsy Folk Songs.
Gulf Shores and Orange Beach have lots to offer the beach bum, nature lover, sports enthusiast and food connoisseur. Our piece of paradise has a variety of things in January your entire family will enjoy so start planning your vacation today. Visit our website at GulfShores.com.