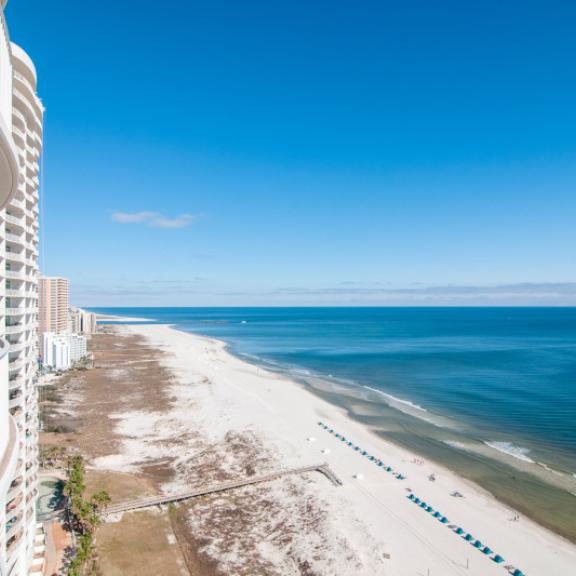 A Beach Destination for All Seasons of Your Life
The Alabama Gulf Coast is one of those destinations that guests visit year after year.
July 14, 2021
It might be attributed to the memories that have been created here, or simply that the white-sand beaches cannot be matched. But what we do know is that families have vacationed here for generations and it's easy to understand why—in whatever life-stage you find yourself, Gulf Shores and Orange Beach provide a memorable vacation. 
Chances are, if you're a regular visitor to Alabama's white-sand beaches, you likely visited as a child. And although the destination has grown and matured (just like you) those childhood memories are worthy of a return trip and an opportunity to create more lifelong memories.
No matter what stage of life you're in
You can find your home away from home in Gulf Shores and Orange Beach.
As a Child
There's something truly magical about your first time on the beach. For children, no matter their age, Alabama's beaches provide the ideal atmosphere for their first beach vacation. Our sugar-white sand beaches are spacious, allowing you plenty of room to bring tents, chairs, coolers and beach toys. Just don't forget to take them home with you at the end of the day. Off the beach, children can enjoy animal encounters at the Alabama Gulf Coast Zoo, The Factory trampoline park, dolphin cruises and pier fishing.
As a Teen
For teens, an Alabama beach vacation is the ideal opportunity to reconnect with their family and younger siblings without the usual distractions at home. Teens can find adrenaline-pumping adventures The Track Recreation Center, ride the Ferris wheel and experience the SPECTRA light show at The Wharf, catch live music at The Hangout, or spend their day riding down dozens of water slides at Waterville USA.
As Young Adults 
Whether you're a college student looking for a quiet, stress-free getaway, a young couple or a group of recent graduates coming together for your annual friends' trip, there's so many fun things to see and do for young adults along our shores. When you're not lounging on the beach, we suggest booking a dinner and drinks cruise with Cruisin' Tikis or Sail Wild Hearts, scheduling a deep-sea fishing excursion, dancing the night away at the legendary Flora-Bama or hitting the spa for an afternoon of R&R. 
As Young Parents
Becoming a new parent has plenty of perks. One of which is being able to act like a kid again when on vacation. Bring your young children to the beach to create memories and stories that will last a lifetime. Depending on the age of your kids, there are a plethora of activities for you all to enjoy together including building sandcastles, playing with lemurs at the Alabama Gulf Coast Zoo, parasailing over the Gulf, learning about coastal wildlife on a nature cruise or hiking through Gulf State Park. We also recommend hiring a photographer to capture the requisite family beach photo on our sugar-white sand.
As a Family with Teens
Parents of teens know how difficult it is to encourage your teen to disconnect and spend time with the family. On Alabama's beaches, they'll forget all about their iPads and cell phones because our destination boasts an abundant number of activities to keep them entertained. Aside from the other activities we mentioned, something unique about our destination is the variety of events and festivals that happen throughout the year, many of which are geared towards families with teens. From arts and music festivals to full-scale foodie and sport events, there's so many things happening in our destination that your teens will love.
As Empty Nesters
So, your kids are officially out of the house. Now what? Book a relaxing, rejuvenating vacation in Gulf Shores and Orange Beach. At this stage in your life, you can go at your own pace and use this time to reconnect with each other. We suggest dining out and indulging in all the fancy dishes and booking a spa day. Or watching the sun set over the Gulf of Mexico with a glass of wine in-hand, and reading that book you've had saved on your Kindle for years as you lounge on our white-sand beaches. 
As Retirees
Make retirement a permanent vacation by extending your stay along our shoreline. Fortunately, you no longer must book travel around school and work calendars, so our destination is your oyster! Many retirees enjoy spending several months in Gulf Shores and Orange Beach between November and March when the rates are lower and the temperatures are cooler. You can enjoy long, leisurely walks in the morning. Then, spend your day biking at the Gulf State Park, exploring nature at Bon Secour National Wildlife Refuge, going on a kayaking adventure or sailing away aboard a sunset cruise. And, at night, savor tasty delights at local eateries.
Explore all there is to see and do in Gulf Shores and Orange Beach, in whatever life-stage you might find yourself. Then, tell us about it by sharing your memories on social media and tagging @VisitALBeaches