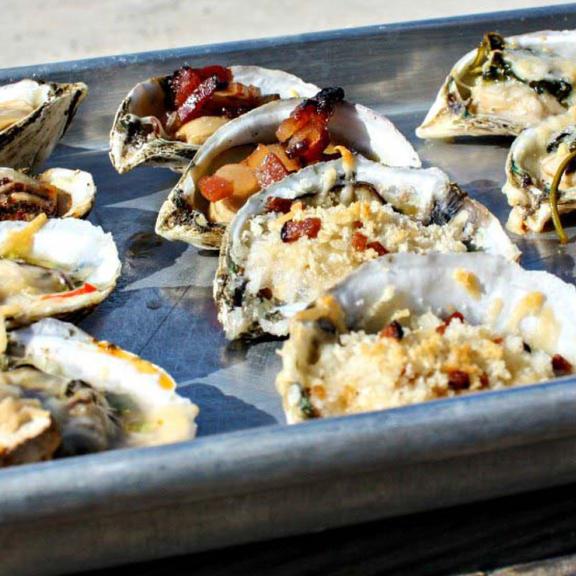 A Foodie's First Impression of the Alabama Gulf Coast
Before visiting the Alabama Gulf Coast, there was one thing I knew the Gulf region was beloved by foodies for - Gulf shrimp.
May 4, 2020
Whether it was battered and fried, chilled and served with cocktail sauce, or over cheese grits, I came to Orange Beach expecting to eat Gulf shrimp whenever and wherever I found it on a menu. Perhaps that influenced the first meal I ordered.
Seafood Heaven in the South
Arriving straight from Pensacola's airport after a long day of travel from Michigan, my first stop was Villaggio Grille at the Wharf. It didn't take long to settle upon the Honey Truffle Shrimp. Plated over a roasted tomato and Parmesan risotto and sautéed broccolini, the shrimp were topped with a white truffle honey glaze that made my taste buds sing.
While I came to Alabama knowing I'd enjoy all the shrimp dishes I'd taste, I quickly realized there was much fresher, local seafood to try.
The following morning I ventured out to a local oyster farming boat with Lew Childree, the man behind the Fort Morgan-based Shellbank Selects Oyster Farm. Lew walked me through how their oysters are raised, then taught me how to pick which oysters were ready to be processed for delivery to local restaurants.
After learning how to shuck an oyster - and not doing it nearly as gracefully as my oyster-farming teacher, I decided to leave it to the professionals at The Royal Oyster, a restaurant that proudly serves Shellbank Selects. Quite often, farm-to-table dining refers to fresh produce sourced from local farms. On Alabama's Gulf coast, that term certainly extends to its seafood.
Located in Gulf Shores, The Royal Oyster serves raw, fried, and roasted oysters sourced from oyster farm I had just visited. Seated outside with a view of the water, I sampled several roasted oysters with unique flavor combinations. There was the Chipotle Bourbon topped with Kentucky Bourbon and chipotle butter, but my favorite may have been the Fusion with pork belly, caramelized fish sauce, mint, and basil.
If my first two seafood experiences with Gulf shrimp and oysters hadn't already convinced me that Gulf Shores and Orange Beach is a fantastic destination for seafood lovers, visiting Blalock Seafood & Specialty Market definitely did.
Locally owned and operated since 1992, Blalock Seafood carries a wide variety of seafood, including fresh Gulf shrimp. But, it was the market's smoked tuna dip that has me planning a return visit this winter.
Though I would describe the cuisine in Alabama's Gulf region as coastal Southern comfort food, you'll certainly find refinement from chefs like Bill Briand, who has been nominated multiple times for James Beard awards for his work at Fisher's at Orange Beach Marina. There, my seared sea scallops paired with roasted cauliflower and a ginger herb salad, showcased the seafood with sophistication.
Comfort Food with an Extra Helping of Southern Hospitality
As a seafood eater, I was in foodie heaven dining in Orange Beach and Gulf Shores, but you don't have to like seafood to enjoy the dining scene. Yes, there is plenty of seafood, if you want it, but the region's cuisine also includes the comfort food you'd expect to eat in the South.
Never was that more apparent to me than when a fried chicken breast topped the sizable buttermilk biscuit of my eggs Benedict at The Ruby Slipper Café. Deviled eggs, pimento cheese, pork rinds, tomato pie - this Northerner tried them all at Luna's Eat and Drink.
Lastly, along Alabama's coast, I learned you must save room for dessert. Between the Flora-Bama Ole River Grill's key lime pie and milkshake-like Bushwacker cocktail, the tropical bread pudding at Bill's by the Beach, and Rum Sister's boozy cakes, a sweet-toothed foodie won't go hungry.
While foodies may visit the Alabama Gulf Coast for the fresh shrimp and Southern comfort food, dining here is so special because each dish is served with a heaping portion of Southern hospitality, too.