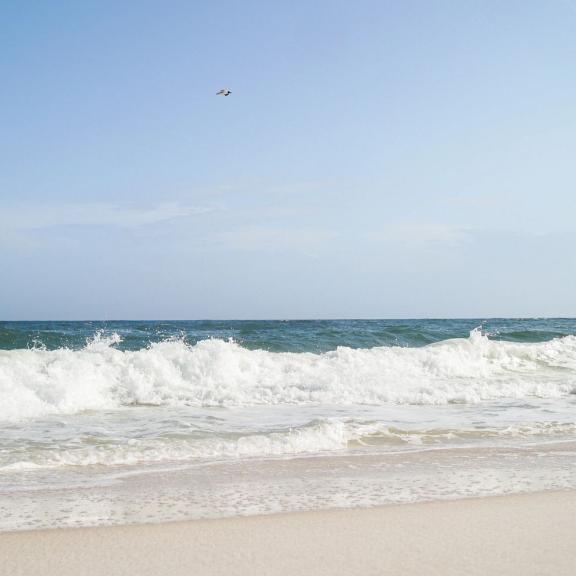 Best Tips for Beach Safety
Gulf Shores & Orange Beach
February 6, 2023
We all love soaking up the sun and playing in the coastal waves of our beautiful Alabama beaches. After all, they're what makes our destination so special. While relaxing and playing on the beach can be a blast, it's essential to take the proper steps to ensure your own safety and the creatures who call it home. Here are a few tips for a safe beach outing, whether in the sand or on the water.
2. Stay Hydrated
Being out in the sun for long periods can lead to dehydration. You should always bring water to the beach and stay hydrated throughout the day. Having a drink on hand is crucial during the summer when temperatures get exceptionally high.
4. Stay Off the Sand Dunes
If you want to protect the beauty of the beach and the animals who call it home, keep off the sand dunes. They preserve natural habitats and prevent beach erosion. Beach boardwalks and walkovers are plentiful and will get you to the shore.
6. Check the Beach Warning Flag System
Observe and obey the Beach Warning Flag System. Gulf Shores and Orange Beach offer a helpful Beach Warning Flag System with color-coded flags to inform you about current water conditions, so you can avoid dangerous situations and rip currents and stay safe in the water. Conditions change daily, so check each time you head to the beach. Each city also offers a hotline to call if you don't see a flag where you are visiting.
For current conditions in Gulf Shores, dial 251-968-SURF (7873). For current conditions in Orange Beach, dial 251-981-SURF (7873).
A text messaging program is also available, which sends daily messages about beach conditions and warning flag status. Sign up by texting ALBEACHES to 888777. You can easily opt-out of these text alerts by texting STOP at the end of your stay.
Yellow Flag: Medium hazard with moderate surf conditions.
Purple Flag: Dangerous marine life is present.
Red Flag: High hazard with high surf and strong currents.
Double Red Flag: Water closed to the public. Please be aware when a double red flag is flying, water conditions are not safe for swimming. We suggest enjoying the sand or pool.
Ready to safely hit the beach? Start planning your trip to Gulf Shores and Orange Beach!