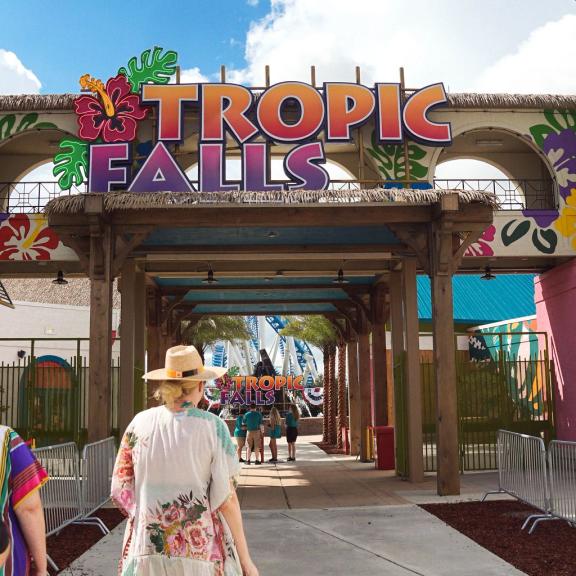 Watch Now
From thrills and one-of-a-kind activities to delicious dining, here are a few things teens will enjoy while visiting Gulf Shores and Orange Beach.
2. Plan an Insta-Worthy Photo Op
Snap a pic and shoot a few Tik Toks at Cool Shots Selfie Museum at The Wharf in Orange Beach. Inside this 4,900 square-foot spot, your teen will discover over 50 unique and eye-catching backdrops perfect for an Instagram-worthy post.
4. Dine Tiki-Style by the Water
If you've ever dreamed of hanging out inside a tiki hut, here's your chance! The Tiki Bar at Safe Harbor Sportsman Marina in Orange Beach offers guests incredible views and open-air dining alongside its tasty eats. Play a game of cornhole and listen to the tunes from local musicians as you enjoy a burger or wings. This cool restaurant also serves non-alcoholic drinks like virgin daiquiris and piña Coladas, so teenagers can sip on a frozen treat while taking in the laid-back atmosphere.
6. Find Thrills at Tropic Falls
A short drive to Foley will lead you to Tropic Falls at OWA, which features an award-winning theme park and the region's largest indoor water park. Both the theme park and waterpark include thrilling rides perfect for those looking for heart-racing fun. Your teen will love throwing their hands in the air as they zoom up and down on the Rollin' Thunder roller coaster and holding onto their tube as they twist and turn on the Forbidden Falls slide. Your family will have a blast at both of these exciting parks.
8. Shop, Eat, & Play at The Wharf
The Wharf in Orange Beach is the ultimate spot for all things entertainment. Have your teens immerse themselves into the vibrant gaming world at Outer Limits VR, then play a game of laser tag or bazooka ball at Arena Next Level Arcade. Is your teen searching for excitement? The Axe Hole and Breakout Games provide electrifying fun. After that, grab a delicious powdered sugar-covered treat at Mo'Bay Beignet or a slice (or two) of homemade fudge at Kilwins. On top of all of the unique attractions at The Wharf, there are plenty of fantastic shops and restaurants to keep the fun going.
10. Ride the Waves with Watersports
Your family came to the beach to see the water and the best way to do that is by trying your hand at one or a few watersports. Whip through the waves on a Jet ski or paddle through the back bays on a kayak. If your teenagers prefer to be in the air rather than the water, go parasailing and feel the rush of the coastal wind brush over them as they soar over the Gulf. You and your teen will discover sensational and serene water activities on Alabama's beaches.
Check out all the exciting activities and remarkable attractions in Gulf Shores and Orange Beach for more ideas!