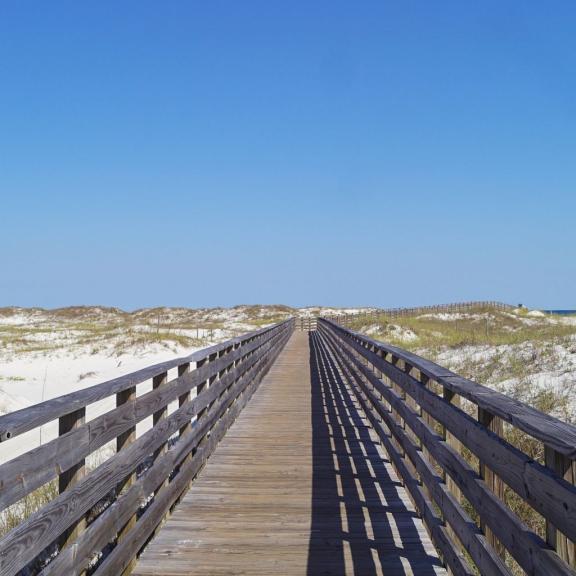 Winter Beach Vacation
In Gulf Shores & Orange Beach
September 5, 2023
The Alabama Gulf Coast is the ideal spot for a winter getaway! Our incredible beaches never close, and our sugar-white sand is the closest thing you'll find to snow here. The cooler months are some of the best times for an Orange Beach and Gulf Shores vacation. Instead of doubling up on jackets, why not relax by the beautiful Gulf waters?
Winter Beach Vacation for Couples
Winter is an excellent time for a romantic beach getaway. The cooler temperatures bring incredible sunrises, perfect for a morning walk on the beach together. Then, rejuvenate yourselves (and your relationship) with a luxurious couple's massage. Or head out to one of our many scenic nature trails. They provide the perfect backdrop for a romantic stroll or a sweet proposal. (Hint! Hint!) Satisfy your tastebuds and enjoy a delicious meal at any of the fabulous restaurants in the area, or plan a special date night at one of the fine dining spots here on the beach. End your day with a sunset sailing cruise to see the brilliant sunsets that our beaches boast during winter. 
Guys' Winter Beach Trip
Forget suntanning on the sand — Gulf Shores and Orange Beach boast opportunities for a thrilling winter beach mancation. The cool, bright winter weather is perfect for outdoor adventures. If you're looking for an adrenaline rush, try taking turns flying a gyrocopter over the beach with the help of your certified flight instructor. Stop by the Gulf State Park Pier to reel in the day's catch or fight your own Moby Dick on a deep-sea fishing charter. If you enjoy golf, challenge your group to a competitive game at one of the beach's award-winning courses. Then, when you're ready for a pint, head over to Big Beach Brewing Company to check out their 10-barrel brew system and sample some of their in-