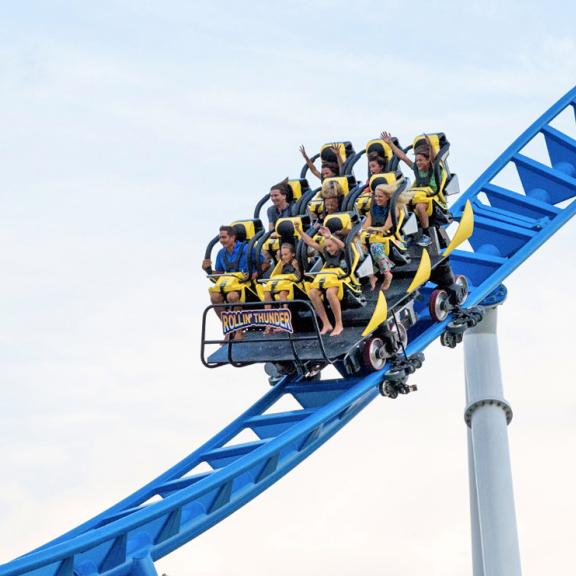 14 Things to Do at the Beach with Teenagers
Keeping teens happy, even on vacation, may not always be the easiest thing to do as teens and tweens often want their own list of things to do while on vacation.
April 29, 2021
Beach vacations in Gulf Shores and Orange Beach provide many activities that are perfect for the whole family! Your too-cool-for-school teen will even find this list of opportunities appealing.
5.) Arcade. Lights, buttons, competition and prizes. Need we say more? (Note: The Track Recreation Center also features an arcade, as does Big Daddy's in Orange Beach.)
6.) SPECTRA Light Show. Sure, the younger set will enjoy the free nightly SPECTRA Light Show at The Wharf, but teens love it, too! The show is set to music, and is held right on Main Street where there's plenty of room to roam and dance (with mom and dad nearby). Also, teens love a ride on the Ferris Wheel for a thrilling, birds-eye view of Orange Beach.
7.) Skim boarding. Stop by a souvenir shop and pick up a skim board for hours of fun on the beach perfecting their techniques.
8.) No kayaks? No problem. There are several specialty rental companies that will deliver kayaks to your location for the day or for the week.
9.) The Park at OWA is in nearby Foley and offers amusement park thrill rides that teenagers thrive on! Thrills and chills are available for those who want a little adrenaline rush.
10.) Leave the beach with all the skills to build the perfect sandcastle at Sand Castle University. A castle-building pro will join your family on the beach for a personal lesson.
11.) Teens love hiking and biking so hit Gulf State Park's Hugh S. Branyon Back Country Trail and explore six ecosystems over 15 trails that make up more than 27 miles within the 6,100+ acres of land inside the park.
12.) No matter the age, the zoo is always a winner! Plan a visit to The Alabama Gulf Coast Zoo in its brand new facility for animal encounters with sloths, kangaroos, lemurs and more. With more than 500 animals, teens will quickly find some favorites.
13.) The beach! We don't think an explanation is needed on this one.
14.) Have fun!