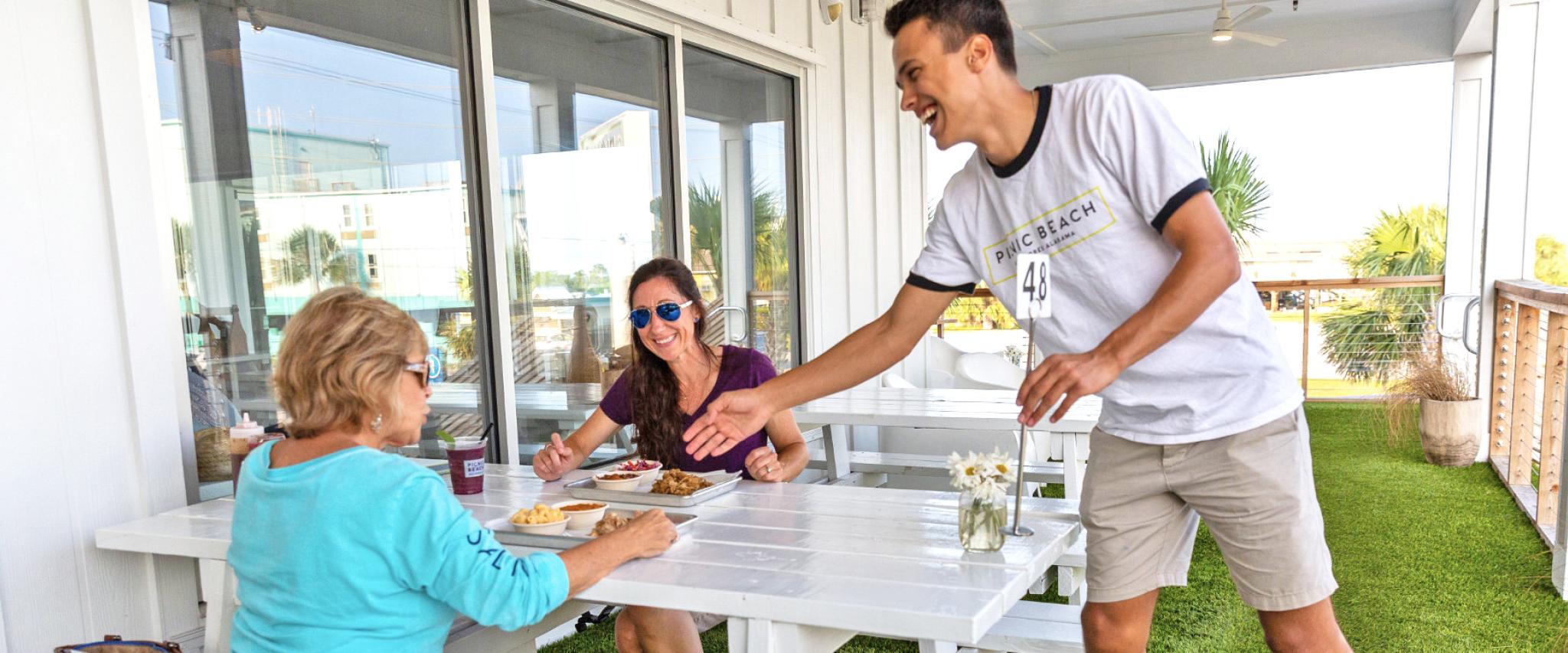 Vegetarian and Vegan-Friendly Restaurants in Gulf Shores/Orange Beach
I have been vegetarian for more than 24 years and love visiting Gulf Shores and Orange Beach.
July 28, 2020
When we first started visiting the area, I was a bit worried that finding a good vegetarian meal in an area known for fresh seafood may prove difficult.
Thankfully my fears were for nothing and I have fallen in love with eating out in Gulf Shore and Orange Beach. We talk often about what restaurants we can't wait to return to on our next trip.
These are a few of my favorite vegetarian/vegan-friendly restaurants on the Alabama Gulf Coast. This list could easily be double or triple the length, because there are so many great options for vegetarians and vegans.
The restaurants in the Gulf Shores and Orange Beach area have done a wonderful job of designating menu items so it is easy to see what is vegetarian or vegan. I have never had a problem getting a meal that I have loved.
I normally check out the restaurant menus online before we go so I have an idea of what my options are and if they fit what I am craving that night. This is a great way to plan and make sure you can enjoy amazing meals during your stay.
Don't be afraid to ask the restaurant what menu options are available! There have been many times I have found out about a chef special that is not written in the menu, but they love preparing for guests.
Lucy Buffett's Lulu's
One of the best things about LuLu's is they are dietary-restriction friendly! They have multiple menus depending on your dietary needs. While they do not have a specific vegetarian or vegan menu, I normally ask for the egg-free or seafood/shellfish-free menu.
They have killer vegetarian nachos, quesadillas, Lower Alabama Caviar (black eyed peas in balsamic vinaigrette), Big Ole Salads, veggie tacos, and grilled cheese sandwiches.
Don't forget to order a slice of key lime pie!
All of their dietary restriction menu items are prepared in a separate kitchen with highly trained staff to make sure there is no cross contamination or issues.
The Southern Grind Coffee House
If you're looking for an amazing cup of coffee, a place to relax and a delicious meal this is the place to go!
The Southern Grind Coffee House has two locations that offer everything from avocado toast to caramel cookies that you will want to buy a couple of.
The Orange Beach coffee shop has a great menu with designated vegetarian and gluten-free options.
The mozzarella, tomato, basil Panini is delicious! I can't wait to try the hummus veggie bagel and the strawberry pecan salad the next time we are at the beach.
Original Oyster House
I know you think I'm crazy sending you to an oyster house, but there are options. The appetizer menu is filled with fried tomatoes, fried pickles and fried mozzarella.
If that is a bit too much fried goodness for you, one of the items I really enjoy at the Original Oyster House is the expansive salad bar. The Gulf Shores restaurant also has a baked garlic Alfredo pasta. Just request it with no meat.
Villaggio Grille at The Wharf
If you're looking for vegetarian Italian options, you need to check out Villaggio Grille. Hello…yum!
Villaggio Grille serves up wood-fired pizzas that are beyond delicious. You can choose from a margherita, red pepper pesto, Greek (minus the prosciutto), pear and goat cheese and more. Plus, amazing salads, a fruit and cheese platter I could easily enjoy daily, a grilled vegetable plate and more.
This restaurant is classy, comfortable and offers amazing food.
Brick and Spoon
For breakfast or brunch you can't go wrong with Brick and Spoon. The restaurant has a wide variety of options for vegetarians and vegans.
The baked brie bruschetta with caramelized apples and raisins is a must try. They also offer a garden omelet, pancakes, French toast including a banana foster French toast which is epic. One thing I love is they have a farmer's market benedict with seasonal vegetables. I had the breakfast tacos without the chorizo, and they were also delicious.
There are so many amazing restaurants in Gulf Shores that I already have a list of ones I want to check out during our next visit.
Picnic Beach
The menu at Picnic Beach is vegetarian and vegan friendly. I can't wait to check out the charred cauliflower, buffalo cauliflower wings, Beyond Meat Beach Dog Brat, and the fresh smoothies. Their menu is nicely marked with vegan and gluten-free options so you can easily see what is available.
The Hangout
The Hangout is high on my list to try during our next visit. They have a blue shark cocktail that has my name on it. They offer vegetarian appetizers, salads (you will need to ask for no meat), a vegetarian wrap with grilled seasonal vegetables, hummus and red pepper aioli. Yum!
Cactus Cantina
I could happily live on chips and salsa with a side of guac! Cactus Cantina offers fresh guacamole, habanera salsa, salads, cheese enchiladas, veggie fajitas, spinach and mushroom quesadillas and cactus veggie burritos.
I really appreciate that the restaurant has a vegetarian section on the menu to make it easier to find the offerings.
I hope this list helps you enjoy an amazing meal in Gulf Shore and Orange Beach.