Why Alabama's Beaches are Perfect for a Family Spring Break
If you've got a case of the post-holiday blahs you're probably not alone. You know what cures that? Planning a vacation in Gulf Shores & Orange Beach.
January 29, 2020
I know it might not seem like it now, but spring break will be here before you know it. You don't want to be behind the power curve when it comes to planning your family fun. 
If you're dreaming of a beach vacation, Alabama's beaches are perfect for a family spring break. If you've been to Gulf Shores or Orange Beach recently (or ever) you already know this. If you haven't had the pleasure, let me introduce you to the reasons your family will love spending their spring break on Alabama's beautiful beaches.
5 Reasons Why Alabama's Beaches are Perfect for a Family Spring Break
1. The beaches family-friendly...yes, really
If you have visions of wild college kids and party central spring break at the beach, well...not these beaches. The Gulf Shores and Orange Beach community caters to family vacationers and not large groups of college kids looking to kick up their heels. They welcome all visitors who respect the beaches and their fellow beach-loving guests.
Gulf Shores and Orange Beach are heavy on condos and vacation rentals and short on hotel rooms, making it more attractive to families. In addition, during March and select days in April, alcoholic beverages are banned from the beach.
And that's just fine. 
2. Easy to Get To
Alabama's beaches are popular vacation spots for people all across the Southeast. When I visited in August 2019, I met people from across Alabama, Tennessee and the Carolinas. What I loved about visiting with the tourists is Gulf Shores is that the same family groups come here year after year. 
If you're coming from another part of the country like I am - I live in Texas and it's about a 10-hour drive - it's easy to fly in. Mobile Regional Airport is about an hour away and Pensacola International Airport is a little less than an hour. Various shuttles and car rental options are available from the airports. 
3. Breathtakingly Beautiful Beaches
I grew up thinking our Texas Gulf Coast beaches were what the beach looked like. I don't mean to knock Texas and I enjoy living here...but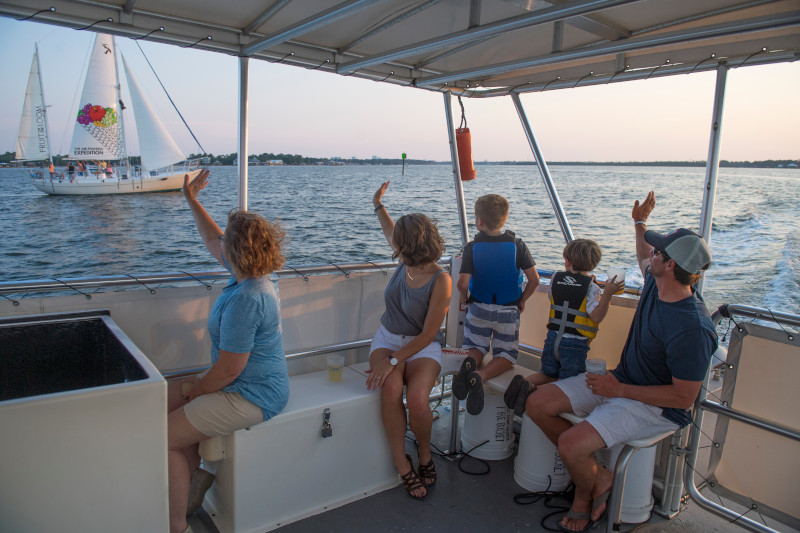 our beaches aren't very pretty. 
They'll get you your beach fix if that's what you're looking for but, in my opinion, the white sands and turquoise waters of Gulf Shores and Orange Beach are worth the extra distance. When my kids and I were on a dolphin cruise with Cetacean Cruises, we met a couple from our hometown. True story! When I asked if they ever went to Port Aransas or South Padre Island (our nearby beaches) they shook their head and said, "The beaches here in Alabama are just better." 
It's true. Sorry, Texas. Don't kick me out. 
If you've ever been to the Caribbean or looked at a vacation brochure or website, you know what I mean when I talk about those stunning turquoise waters. This beautiful scenery is super easy to access, and you don't need a passport or an international flight to enjoy them.
4. So. Much. To. Do.
If you want to spend an entire week laying on the beach and watching the waves, no one's going to get mad at you. If you want to take a beach break and explore the area, you have loads of choices. 
In addition to traditional water activities, such as fishing excursions, dolphin watching, and parasailing, there's a zoo, the Coastal Arts Center, and more. There's a TON of dining and shopping options. No matter what your taste in food or activities is, there's something here for you. The Gulf Shores and Orange Beach website has all the info you'll need to plan the best visit. You can do as much or as little as you want, and the vibe is very "go with the flow." That said, if you're visiting during the busy spring break season and want to do activities that require reservations, such as parasailing, you may want to book in advance. 
Also, the selection of restaurants can be overwhelming, so I recommend checking out what's available and making a wish list before you go. I did not have a single bad meal while I was there but I particularly recommend The Hangout and Lucy Buffett's Lulu's. These are great, family-friendly places with delicious food and drinks and things for the kids to do. 
5. Condo Life is Pretty Darn Sweet
As I mentioned earlier, Gulf Shores and Orange Beach is very condo/vacation-home heavy. This is a great way to spend a vacation as a family. If you think you can't afford it, you're probably wrong. 
You'll have to do your own legwork on the Gulf Shores and Orange Beach website - they have links to lots of vacation rental agents - and plug in the specific location, size and amenities you need. Your mileage will vary and there are a lot of different options available, but you can easily get a two-bedroom for a reasonable rate. 
The condo we stayed in had two spacious bedrooms, two bathrooms, a full kitchen and living area, smart TVs, WiFi, a full-size washer and dryer and a balcony breakfast area. Oh, did I mention this was beachfront property? It wasn't fancy - it was comfortable with little touches of luxury, but it was the type of place you feel comfortable. It was the perfect place to have a vacation. The beach was right there and when we weren't at the beach, it was a comfy place to relax. And, isn't that what vacations are all about? 
Spring break and the beach are ideal partners. If a spring break family beach vacation is in the cards for you this year, do yourself a favor and check out Alabama's Beaches. They have the absolute best of everything.