2019 Blue Angels Practice Schedule
Tuesday, Apr 02, 2019 -
Thursday, Nov 07, 2019
All practices start at 11:30 a.m., unless otherwise noted.
National Museum of Naval Aviation
Get Directions
Hours of Operation
9AM-5PM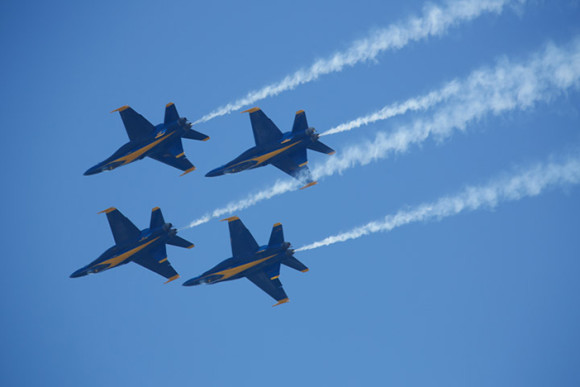 Admission:
Free admission.
Although the team travels the country during the year, they return home to NAS Pensacola in Florida most weeks. In order to stay proficient in their demanding routine, they traditionally fly practice performances over the base on Tuesdays and Wednesdays during airshow season (March through November). Look below for their planned practice dates, but keep in mind that these can and do change as the year progresses due to things like weather or other circumstances.
Practices typically begin at 11:30am Central Time and last about 55 minutes. Public viewing is available at the National Naval Aviation Museum at no cost. The outside viewing area for the Blue Angels practice is located on the museum's flight line north of the museum. Signs are posted to direct visitors to viewing and parking locations, including limited parking for handicapped visitors. Open bleacher seating is available and seats 1,000 people. A limited quantity of chairs are available for a fee of $3 per chair, good for that day's practice session. Concessions of bottled water, sport drinks, light food, treats and merchandise are also available. Chair service, concessions and merchandise are provided by the National Naval Aviation Museum Foundation and proceeds support the museum and foundation programs.
A valid ID is required for all visitors 16 and over to gain access to the museum flight line. Backpacks, daypacks and other similar items are not allowed on the flight line.
The Blue Angels are scheduled to return to their home base at NAS Pensacola on March 27. The annual Pensacola Beach Air Show is scheduled for July 13 and the Blue Angels Homecoming Air Show at the base is scheduled for November 8 and 9.
All practices start at 11:30am, unless otherwise noted. Practices marked with an * will be followed by a pilot autograph session inside the museum.
Times and dates are subject to change. For the most up-to-date information, visit the National Naval Aviation Museum's website.

APRIL:  2, 3*, 9, 10*, 16, 17*, 18, 19, 23, 24*, 30
MAY:  1*, 7, 14, 15*, 28, 29*
JUNE: 4, 5*, 11, 12, 18, 19*, 20, 21, 25, 26*
JULY:  2, 3, 16
AUGUST:  7*, 8, 9, 13, 14, 20
SEPTEMBER: 4*, 10, 11*, 12, 13, 17
OCTOBER: 16*, 22, 23*, 29, 30*
NOVEMBER: 5, 6, 7 (November practices are at 2:30pm)