Tropic Takeover 2 - A Super Smash Bros. Tournament
From: 10:00 AM to 10:00 PM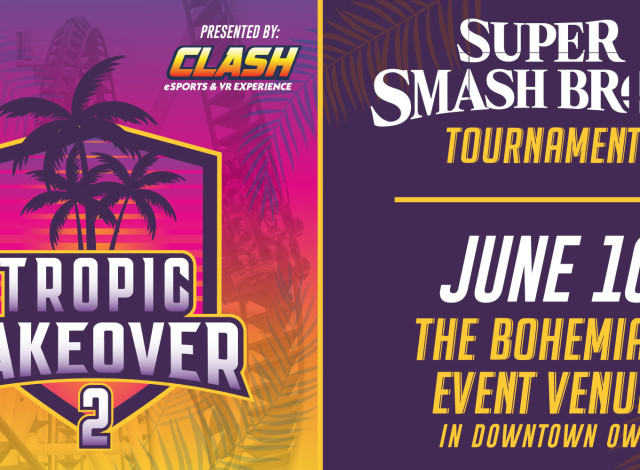 Clash eSports & VR Center is hosting another huge Super Smash Bros. Tournament this June! Register today to save and get your name in the running for a $1000 guaranteed prize pool plus bonus prizes!
The event will be held on June 10, with early check-in and friendlies (with pizza!) starting June 9 at 4 pm. The event is located at The Bohemian: An Event Venue in Downtown OWA.
Register Today! https://www.start.gg/tournament/tropic-takeover-2-at-owa-parks-and-resort/details
View Rules/Regulations
https://docs.google.com/document/d/1rTDsXu9ikgJOwUUxnEMdiNIfampVNtwxV0KvJxrL3FU/edit?usp=sharing
 
Schedule of Events
Friday, June 9, 2023
4-10 pm Early Check-in, Open Friendlies with pizza, Squad Strike Tournament 
Saturday, June 10, 2023
10 am-11 am Venue Opens, Check-in
11:00 am Doubles 
1 pm Singles Pools begin
5:30 pm Singles top 8
8:30 pm Singles Finals
10 pm Venue Closes
Early Registration- $15 plus $5 Bracket Fee through May 1, 2023
Standard Registration- $20 plus $5 bracket fee
 
$1000 Minimum Singles Payout: Top 8 (1st 50%, 2nd 20%, 3rd 13%, 4th 7%, 5th tie 3%, 7th tie 2%) 
No Minimum Doubles Payout Winners Based On Entries  Top 8 (1st 50%, 2nd 20%, 3rd 13%, 4th 7%, 5th tie 3%, 7th tie 2%)
Admission:
See the event details.