Reenactment of the Battle of Fort Blakeley
Historic Blakeley State Park
Get Directions
Hours of Operation
8AM–5PM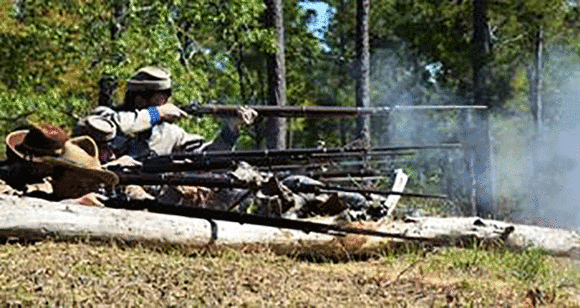 Admission:
Cruise is $27/adults and $17/kids ages 6-12, includes admission to park for day. General admission to event is $10/adults and $5/kids ages 6-12. Kids unders 6 are free.
To commemorate the 154th anniversary of the Battle of Fort Blakeley, Historic Blakeley State Park will host a special day of living history and educational programming on Saturday, April 6th capped off by one of the largest reenactments of the battle in several years.
Events will include:
 
-Civil War artillery and rifle demonstrations
-Guided battlefield tours
-An exhibit of items from the battle including a rare Confederate cannon captured here during the fight
-A lecture by Paul Brueske, author of The Last Siege: The Mobile Campaign
 
We will also again offer our popular and unique "Civil War on the Eastern Shore" boat cruise. This historic voyage of discovery along the lower Delta's scenic waterways explores the major battles of the Civil War's "Mobile Campaign" from the rivers on which its major actions took place.


For reservations call 251-626-0798 or visit the events page of our website.